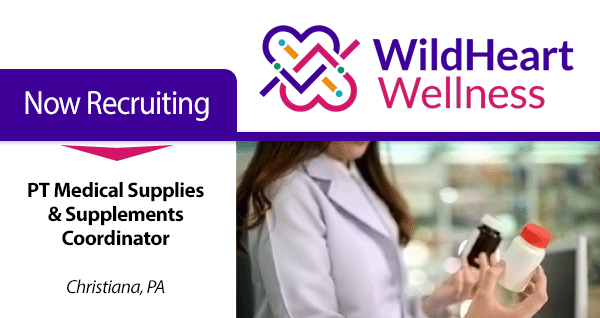 PT Medical Supplies & Supplements Coordinator
---
This position maintains and orders medical supplies and supplements by developing and maintaining the inventory ordering schedule, tracking deliveries, monitoring reports, and more. Our goal for this position is to have someone who is passionate about what they do and is always looking for new ways to be a leader so that the business grows to its best potential.
Essential Responsibilities
Maintain and order medical supplies and supplements.
Developing and maintaining the inventory ordering schedule.
Tracking of deliveries of medical supplies and supplements.
Manages disposal of inventory.
Developing and maintaining supplement buying program based on vendor sales and volume discounts and reports from the owner.
Monitoring growth and development reports on supplements.
Sending supplements to be mailed to clients, including but not limited to:

Setting up invoices to clients
Checking the correct client shipping address
Checking each supplement packed for accuracy (3xs)
Tracking packages delivered to clients

Perform other duties as assigned.
Required Skills & Qualifications
Excellent verbal and written communication skills.
Excellent interpersonal, negotiation, and conflict resolution skills.
Excellent organizational skills and attention to detail.
Strong data entry skills.
Excellent time management skills with a proven ability to meet deadlines.
Strong analytical and problem-solving skills.
Ability to prioritize tasks and delegate them when appropriate.
Ability to act with integrity, professionalism, and confidentiality.
Thorough knowledge of HIPPA-related laws and regulations.
High School diploma, or GED equivalent.
Proficient with Microsoft Office products including Access, Video Conference Systems, and Outlook (calendar, email, one-drive, etc.).
Complete support of and willing adherence to the WildHeart Wellness' mission, vision, and core values. Applicant must hold these standards as his/her own.
Ability to read, analyze, and interpret technical procedures, financial reports, or governmental regulations. Ability to write reports, business correspondence, and standard operating procedures. Ability to effectively present information and respond to questions from groups of managers, customers, and the general public.
Ability to calculate figures and amounts such as discounts, interest, proportions, percentages.  Ability to apply concepts of basic math.
Acknowledgment
This job description has been designed to indicate the general nature and level of work performed by employees within this classification. It is not designed to contain or to be interpreted as a comprehensive inventory of all duties, responsibilities, and qualifications required of employees assigned.
Location will be: 1135 Georgetown Road, Suite 110, Christiana, PA 17509 
Download Application Here  All qualified individuals may submit a completed application and letter of interest to: E-mail HR Team