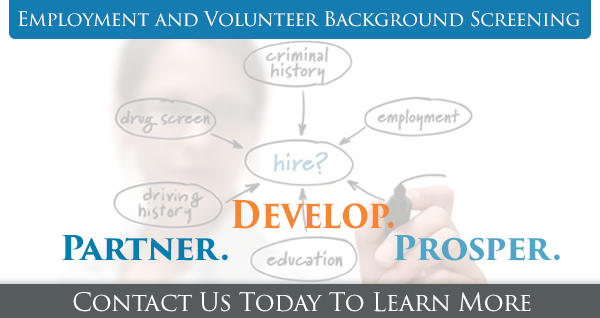 We take the burden out of the HR Department when conducting background screens. When you are hiring new employees or screening volunteers you just want a red light to stop or a green light to move forward. With our background screen service you get just that without the headache of filing out documents and spending countless hours keying in applicant background screening information.
Streamline and Automate Your Background Screening Process
Our Process
Puts the administrative burden on the applicant
Relieves the organization of the hours of administrative work
Allows the organization to reimburse the applicant for the cost via first paycheck
What You Get
Results of the background check without you doing the work
100% accurate and instant background verification
Increased workplace safety while minimizing workplace losses
Who Gets Background Checked?
Employee
Get comprehensive information you need to help with hiring decisions that will help shield your organization, with cost effective services that will help streamline your process to protect your employees, customers, and clients.
Volunteer
When you have volunteers for your organization doing a background check is essential to help protect your employees, customers and clients. The law views volunteers as non-paid employees of your organization.
When Should You Conduct Background Screens?
We recommend that background screens are only conducted "post offer" for employment and for volunteers. 
Why Conduct Background Checks?
It is an employer's responsibility to ensure a safe environment for all employees as well as prevent theft and other criminal activities.
Background checks keep your employees, clients, and organization safe. Your employees are the most important investment you can make as an organization. Unfortunately, investments can be a gamble and the bad employees can cost your organization a lot in terms of time, money, and safety in the long run.
Background checks may help protect employers from potential liabilities. They also may protect you from anyone who may come in contact with your organization.
Are Background Checks Required?
In some states the answer is yes. In fact some states such as Pennsylvania employees and volunteers are required to obtain in-depth background screening for positions paid and unpaid at Schools, Colleges, Ministries, Churches, and Daycares.
Some industries like home healthcare, insurance, and financial sectors require background checks because these people will be handling personal, private information. A person applying for an executive position will go through a more stringent testing than a minimum wage or part-time employee. Different screenings can be requested from the organization based on the candidate's position.
If you have questions about how In HIS Name HR can help your organization better screen employees while reducing your administrative burden, contact us today. You will be glad you did.