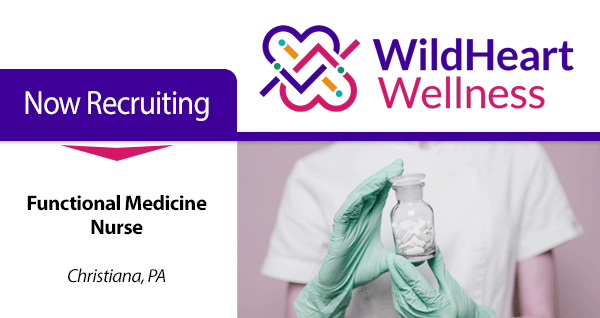 ---
Now more than ever people need to take charge of their health.  Come join an organization that is making a difference, a difference in so many lives. WildHeart Wellness  offers years of experience in nutritional and holistic diagnosis to recommend solutions that help you live in better health, vitality & joy!
We take into account your lifestyle, diet, environment, and even DNA to recommend a tailor-made solution for you.
Come join a Team that is making a difference in so many lives!
The Functional Medicine Nurse will need to have a strong background in holistic and functional medicine experience.  This person will also need to have Functional medicine treatment knowledge of lifestyle and nutrition changes as well as knowledge of administrative of supplement therapies.
The Functional Medicine Nurse will be responsible for review of practitioner's action plan with client after phone meetings, zoom meetings, or in-person.
The Functional Medicine Nurse will be responsible for scheduling and maintaining the client schedule for the organization.
The Functional Medicine Nurse will be responsible for documentation of client charts (Physical and electronically); scanning and maintaining paperwork in the electronic record system.
Essential Responsibilities
Maintain appearance of office attire including always wearing hair up, and proper clothing for office duties.
Make sure clients, staff, and community members always feel comfortable, and is enjoying the interaction in a social welcoming manner.
Functional Medicine Nurse Responsibilities:
All in-house or remote correspondence with clients relating to their treatment/healing journey with our office.
Performing and monitoring the following:

Laser Therapy
Neurofeedback
Contour
Max Pulse
IN Body

Prepping patient charts including all physical charts for all clients, proper paperwork and completion of tests and records update; as well as Ann's (owner) upcoming appointments, after appointment orders.
Responsible for all lab draws including:

Ordering
Communication with clients
Drawing blood
Specimen collection
Processing & packaging specimens

Responsible for all injections that are done in-house or educate clients for home injections.
Responsible for infusions including ordering and mixing of solutions, starting, and discontinuing of peripheral lines, monitoring infusions, and documentation.
Client support including routine check-ins and updates to support each client's healing journey.
Perform other duties as assigned.
Administrative Responsibilities:
Use bookkeeping software – QuickBooks to invoice clients for tests, medical procedures, and supplement orders.
Use of Appointment Core
Use of Infusion Soft Accounts
Client Liaison which includes:

Answering/initiating phone calls and emails throughout the day
Responsible for all correspondence in the info@wildheartwellness.com email used for general client intake and information, assigning, and coordinating tasks to other staff if needed.
Responsible for all correspondence in the nursing@wildheartwellness.com email used for all tests and schedules.

Responsible for notes and proper documentation of all medical tests performed.
Responsible for all medical records including scanning paperwork continuously updating, downloading tests, labs, etc. and then uploading to corresponding medical record charts (physical charts and electronic charts).
Responsible for maintenance of electronic record system site including creating and monitoring assessments and trackers as well as resources that are assigned to each client.
Creating resource information and updates.
Responsible for ordering/stocking all medical tests (for both sides of the organization) and supplies. Some specific medical tests are as follows:

Vibrant
GDX – Use Genova or Doctors Data or similar
Dutch
BiomeFX
Evexia
23 and me

Responsible for scheduling appointments and changes of schedule, client demographics, test, therapies, coordinating all treatments in Setmore system, email reminders, etc.
Responsible for creating resources pages, ads, flyers, and community outreach.
Responsible for Ann's (owner) calendar including scheduling company consults for Ann to review tests, online programs, etc.
Responsible for creation and communication of all zoom appointments for Ann (owner).
Responsible for maintaining nursing licenses, certificates, etc.
Responsible for update and maintain bloodborne pathogen plan and educate all staff per requirements.
May need to cover for supplement room, when needed.
Perform other duties as assigned.
Responsibilities in Team Meetings:
Generate creative and inspiring ideas/plans to share with the team.
Attend weekly "huddles" (exceptions need to be approved by owner).
Analyze food desires and consumption.
Promote positive and enthusiastic communication with the team.
Required Personal Attributes:
Excellent verbal and written communication skills.
Excellent interpersonal, negotiation, and conflict resolution skills.
Excellent organizational skills and attention to detail.
Excellent time management skills with a proven ability to meet deadlines.
Excellent detail with numbers, names, specific genetic and research tasks.
Strong analytical and problem-solving skills.
Ability to prioritize tasks and to delegate them when appropriate.
Ability to act with integrity, professionalism, and confidentiality.
Thorough knowledge of HIPPA-related laws and regulations.
Position Requirements:
Certified Nurse as an LPN or RN.
Functional or integrative medicine one (1) year minimum required. Willing to learn more functional medicine skills on site and via online classes.
Strong background in holistic & functional medicine.
Background in administration of infusions including IV injections and IV fluid.
Willing to learn new medical equipment, software systems, etc.
Willing to get Neurofeedback training certificate to use equipment.
Must have a valid driver's license.
Proficient with Microsoft Office products, iPad, and Outlook (calendar, email, one-drive, etc.).
Complete support of and willing adherence to WildHeart Wellness' mission, vision, and core values. Applicant must hold these standards as his/her own.
Location will be: 1135 Georgetown Road, Suite 110, Christiana, PA 17509 
Download Application Here  All qualified individuals may submit a completed application and letter of interest to: E-mail HR Team