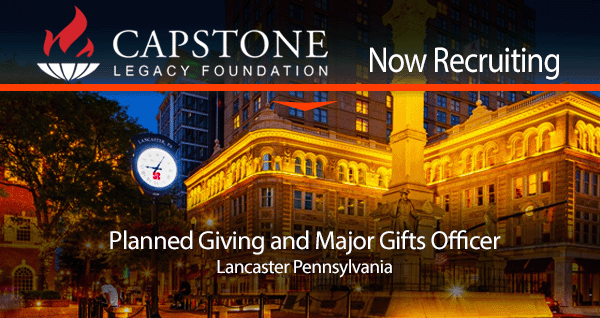 Now Recruiting For: Planned Giving and Major Gifts Officer Lancaster, PA
---
Position Closed
Looking to make a difference in our world? It's time to use all of your education and experiences to be an instrument of change.
In HIS Name HR is honored to have been retained by Capstone Legacy Foundation to seek their next Planned Giving and Major Gifts Officer. Capstone exists to educate and empower givers to increase generosity by planning strategically and establishing legacies to transform lives…in other words, preserving client's legacy while transforming lives through joyful giving.
What is Capstone Legacy Foundation about? Capstone is a 501 (c) (3) Christian community foundation dedicated to the preservation of donor intent. They believe that stewarding God's blessings is a form of obedience and worship.
Whether clients feel called  to fund good works or do good works, Capstone provides customized giving solutions that enable each dollar to go further. Capstone provides expertise in starting a foundation,  launching a ministry or helping investors with Christ-centered, morally driven giving. Capstone provides a diverse series of giving vehicles and fiduciary services that provide you with peace of mind, all while maintaining a kingdom-driven perspective on wealth.
Capstone's dedication to establishing clients legacy comes from their deep Pennsylvania roots. Although Capstone was organized in 2005, their financial and spiritual legacy stems from one of America's oldest industrial firms—the Lukens Steel Company—founded in 1810. This 200+ year perspective inspires their efforts to ensure that they help clients giving echo into eternity.
Planned Giving and Major Gifts Officer
Purpose
Responsible for planning, organizing and providing a critical role in identifying, developing, and maintaining relationships with CLF's planned-giving donor/givers, major donors, and planned-giving and major donor prospects for the purpose of securing major funding for the organization.
Some Essential Responsibilities
Key Result – Steward the relationships of planned-giving and major donors to maximize their connection to the purposes of CLF and, in turn, support CLF, both financially and spiritually.
Develop and implement a strategy for each planned-giving and major donor
Expand target audience of potential givers by exploring private foundations, businesses and professionals, including lawyers accountants and wealth managers
Communicate to potential and existing planned-giving and major donors regarding key projects supported by CLF, and encourage donors to contribute through a variety of giving solutions, including cash, marketable securities, real estate, life insurance products, endowments, trusts, bequests and charitable gift annuities
Conduct regular visits with planned-giving and major donors
Organize regional donor activities and special events
Attend relevant professional conferences to continue professional development and networking
Assist with special events as approved by senior management
Meeting the annually set goal for assets under management and restricted gifts in support of CLF general and administrative budget
Attend CLF staff functions and one-on-one meetings with senior management as needed
Track donor contact, which includes activities such as monitoring number of face-to-face visits, phone calls, emails, personalized correspondence, funding proposals presented, new donor inquiries, etc.
Use CLF data collection systems to the fullest, including MS Outlook products and Foundant C Suite software
Stay current with trends in philanthropy and technical details on all forms of planned gifts and tax law changes, keeping staff informed of such changes; serve as a knowledgeable resource for CLF
Report to CEO weekly on progress on the approved planned-giving goals
Required Personal Attributes/Skills
Excellent verbal and written communication skills.
Excellent interpersonal, negotiation, and conflict resolution skills.
Enthusiastic leader capable of, managing diverse teams to reach a common goal; Initiating and completing projects; Make timely, effective and ethical decisions; Embody the entrepreneurial spirit; A self-starter who crafts creative solutions and opens doors to new donor relationships.
Actively and consistently listen to all constituents, focus especially on donor needs, and know how to identify mutual benefits. Communicate excellently and compel audiences through writing and speaking.Excellent organizational skills and attention to detail.
Excellent time management skills with a proven ability to meet deadlines.
Strong analytical and problem-solving skills.
Ability to prioritize tasks, and to delegate them, when appropriate.
Ability to act with integrity, professionalism, and confidentiality.
Thorough knowledge of employment-related laws and regulations.
Proficient with Microsoft Office Suite or related software.
Proficiency with or the ability to quickly learn the organization's CLF data collection systems to the fullest, and Foundant C Suite software
We want to see you dream of transforming struggling organizations into successful ones, good ones into great ones, and that you know how to actualize your aspirations.
Position Requirements 
Associate's degree or higher in marketing or business administration
5–10 years of experience in the nonprofit environment, with a strong emphasis in experience on planned giving and major donor development
Proficiency in spoken and written English. Ability to write reports, business correspondence, and procedure manuals. Ability to effectively present information and respond to questions from groups of managers, clients, giving prospects and the general public.
Guiding Principles
At Capstone Legacy Foundation (CLF), a Christian, Kingdom-oriented community foundation, we operate under a set of guiding principles as stated in our Statement of Purpose, which includes our Values, Vision and Mission Statement. We insist that our employees adhere to our Statement of Purpose in working together as an organization. Together, we follow God's call to assist givers and ministries in fulfillment of God's Kingdom plans on earth.
Cover letters should include why you should be considered for the position and what would make you the best candidate.  Please read Capstone's statement of faith and express in your cover letter how you align to their beliefs and strategy.
Serious and Confidential Inquiries Only 
All qualified individuals may submit a resume and letter of interest to: E-mail HR Team
Trackback from your site.