---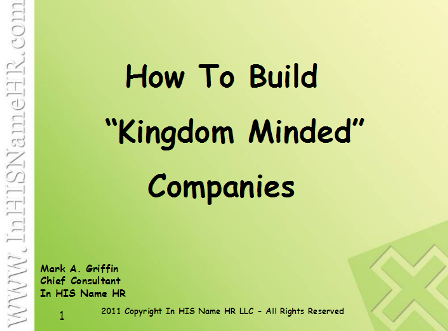 In HIS Name HR is currently accepting dates for January through March 2012 to present, "How to Build Kingdom Minded Companies."  This presentation is designed for Christian-owned businesses with 50 or more employees.
With over 20 years of Human Resources experience ranging from Fortune 100 (Kodak, Quaker Oats, and Merck Pharmaceuticals) to small- and mid-sized companies, Mark Griffin has seen it all. Please come and enjoy Mark's presentation on how you might best build Kingdom Minded Companies in today's politically correct business world. Let Mark inspire you to be bold and brave in your faith by ensuring Christ is present in your workplace.
If you have a conference, roundtable group, seminar series or a Church business group that would be interested to have Mark address them in person, please contact us at your earliest convenience to book your event. Additionally, if you know of a pastor or Christian leader who might be interested in hearing this message or supporting a presentation, please forward this message to them.
Thank you.