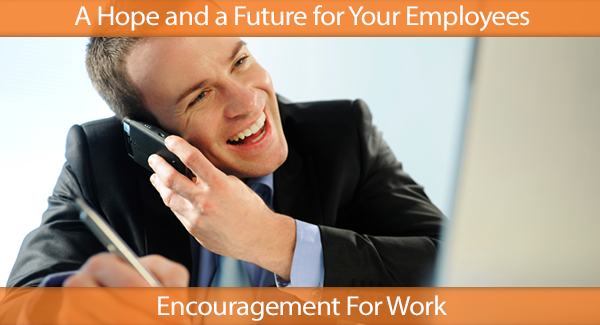 Give Your Employees a Hope and a Future
---
Jeremiah 29:11(NIV)  11 For I know the plans I have for you," declares the LORD, "plans to prosper you and not to harm you,  plans to give you hope and a future."
I believe that, in today's tumultuous business times, we must remain diligent in our obligations as Christian business leaders.  Now, more than ever, Christian Business leaders must acknowledge that employees want, need and crave an environment in which they can be not only productive but trust that their leadership is attempting to provide them and their family stability, a "hope and a future."
We must remain diligent in our obligations as Christian business leaders.
So what about you business leaders? What are you doing to demonstrate to your employees that you are setting the foundation for tomorrow's growth?  Are you giving them hope and a future?  If you do this, if you honor your employees by properly managing your businesses and lighting a path to their future, you will be creating a "Kingdom Minded" company."
What have you witnessed in your workplace that has created a culture of creativity, inclusiveness and productivity?  Please share your thoughts and help our community learn from your experiences.
Trackback from your site.