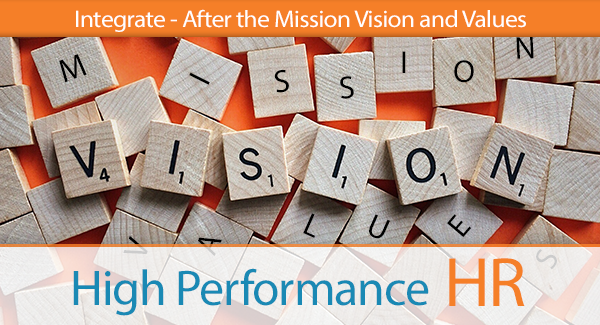 Integrate-After the Mission Vision and Values
---
Integrate-After the Mission Vision and Values …
 Most leaders, after they finalize the recreation of their Mission Vision and Values (MVV) for their organizations, do what comes naturally — they share it with everyone. If that sounds like you, then it goes out on your website, and it gets printed poster-sized and hung on the walls of your conference rooms and lobby. You mention it consistently for about three months … and then it dies.
It dies because it is not an  intrinsic part of the way you do business.
It is not ingrained into the soul of your company. 
How do you make your Mission Vision and Values a part of the way in which you do business? You integrate it into the practices that are always connected to the people that make it happen — you integrate it into the people who are applying your HR practices. HR practices are practices that touch all employees.
What are some examples of HR practices?
Employee Relations
Recruitment Management
Workforce Planning
On Boarding Management
Training Management
Performance Management
Compensation & Benefits
Attendance and Leave Management
Compensation and Benefits Management
Employee Development Skill Management
Health & Safety
Employee Activities
Employment Policy Management
You could probably laundry-list 40-plus practices, but, for the sake of explanation, we are going to provide guidance on six key practices that you can integrate with your MVV quite easily. These six are your:
Handbook
Recruitment Process
Performance Review Process
Job Descriptions
Communication Process
Training and Development
Over the next few weeks, I will walk us through the integration of the MVV into each one of these practices. What has your experience been when integrating these concepts into your company's practices? Share with us below. We would appreciate hearing your thoughts and stories.
Trackback from your site.