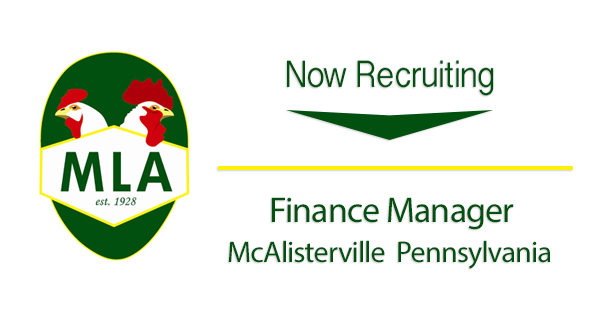 ---
Position Closed 
Maple Lawn Associates (MLA) is committed to setting the standard as a supplier of specialty eggs to the Northeast U.S. market.  A family business established in 1928, MLA values humility, integrity, stewardship, innovation, and excellence.
Purpose of Position:  
The Finance Manager has the primary responsibility for overseeing the accounting functions and for providing financial reports, advice, and support to the President and management team, thus enabling them to make sound business decisions. The Finance Manager is also specifically responsible for financial preparations for customer contract negotiations.
Some Essential Duties:
Responsible for 1-2 direct reports.
Supervise the staff performing the accounting functions of AR, AP, payroll (in-house), pricing etc.
Research, develop, and maintain product-costing models that provide instantaneous key performance indicator information to company stakeholders.
Responsible for making sure that the payroll is done accurately and timely.
Produce accurate & timely financial reports on a monthly basis.
Provide and interpret financial information for the owners and managers annually, monthly, weekly, and when requested.
Monitor and interpret cash flows and predict future trends.
Position Requirements:
Four year Business Management Degree in Accounting, Training, or equivalent experience.
8 -12 years related experience and/or training.
Experience in QuickBooks and cost accounting required.
High level of proficiency in Microsoft Excel required.
It is critical that employees support the attainment of our organization's Mission, as well as align their performance, goal setting, and focus on realizing our company's Vision. This should be accomplished within the published Values of Maple Lawn Associates.
Required Personal Attributes:
Just like all Maple Lawn employees, the conduct of this employee must be consistent with good character, and must be an appropriate reflective of our company's heritage.  Complete support of and willing adherence to Maple Lawn's mission and vision. Applicant must hold these standards as his/her own.
Benefits:
401k Profit Sharing Plan
Cash Balance Pension Plan
Vision coverage
Health insurance
Paid vacation/ holidays/ sick days/ personal days
Free eggs (for employee and their household, only)
Location Will Be:
Maple Lawn Associates
2394 Black Dog Valley Road
McAlisterville, PA 17049
Maple Lawn is an equal opportunity employer.
All qualified individuals may submit a resume and letter of interest to: