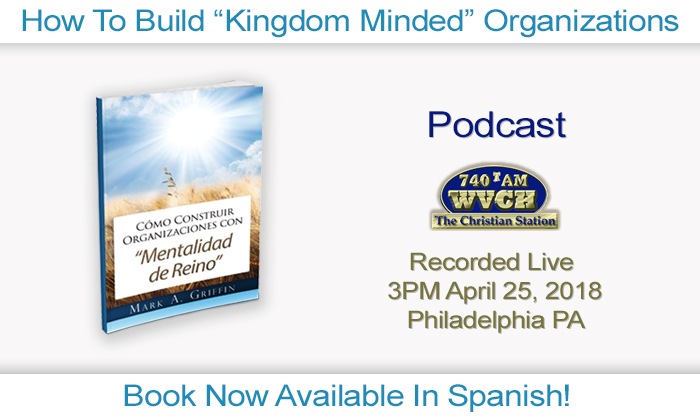 Podcast Book Rereleased in Spanish ~ WVCH Philadelphia PA
---
Recorded Live 3PM April 25, 2018
740 AM WVCH Philadelphia PA
Enjoy listening to Guest Mark A. Griffin discuss the rerelease of his book, How to Build "Kingdom-Minded" Organizations in Spanish with host Charlotte Cosden live at studio headquarters.
Have iTunes? Podcast is available through iTunes.
WVCH is a Blessing – Serving Greater Philadelphia and The Delaware Valley Christian Listeners for over 50 years!
Tune in and listen to WVCH's weekly radio show "Be The Guest," hosted by Charlotte Cosden.  In May 2012 How to Build "Kingdom-Minded" Organizations by Mark A. Griffin was published, and its success was significant that organizations across the US and UK now use it as a guide not just within leadership teams but also boards of directors.
Six years after its first publication, in response to popular demand, How to Build "Kingdom-Minded" Organizations has now been translated into Spanish.  Guest Mark A. Griffin, Chief Consultant at In HIS Name HR shared his experiences in helping shape organizations to be Christ centered and profitable.
With over 20 years of Human Resources experience at both fortune (Kodak, Quaker Oats, and Merck) as well as small and mid-sized companies, Mark has seen it all.
Trackback from your site.