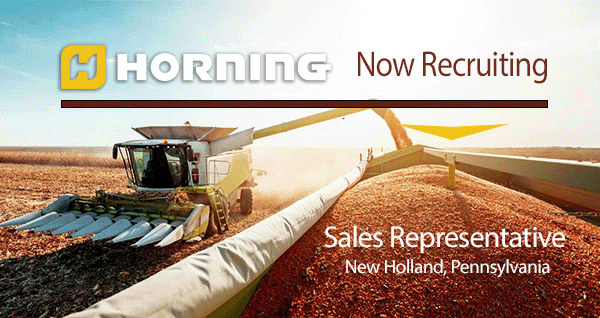 Now Recruiting: Sales Representative, Lancaster PA
---
Located in Lancaster County, Horning manufactures high quality kernel processors and silage processing equipment.
After three generations of dairy farming, the Horning family knows cows. But as much as the Hornings are dairy farmers at heart, they are innovators in mind. Relentless innovators in fact. And it is this family passion that has become the driving force and company culture of Horning Manufacturing.
Because of the incredible growth of Horning, we are now in search of a Sales Representative that will help take the organization to the next level of new customer engagement excellence.
Make Horning part of your story.
Purpose 
The Sales Representative is responsible for establishing and maintaining profitable relationships with customers. The Sales Representative has primary responsibility for ensuring that the products meet the customer's needs.
Some Essential Responsibilities 
Contact and compile prospective customers and assigned accounts within your assigned territory. Responsible for worldwide sales market.
Maintain file and regularly update key customers information. Provide weekly or as needed contact reports to management, including updates and changes in key personnel of existing customer.
Make regular customer and prospect calls. Call frequency should depend on, but not be limited to, potential of the account and the status of any pending business.
Acquire and utilize effective customer relations and sales principles that ensure total customer satisfaction with the products/orders and services.
Representing the company in any sales/related activities, including:

Researching new products
Customer prequalification
Sales visits
Drawings, potential
Proposals
Revisions, and
Ongoing customer care
Responsible for handling all unique job requests with customers.
Responsible for establishing and maintaining profitable relationships with customers.

Required to attend all company meetings & occasionally assisting in emergency jobs or other labor tasks.
Responsible for requesting customers to participate in the customer rating on-line system.
Responsible for notifying the right people at Horning to handle any concerns, or problems with the products that you are made aware of by the customer. You are the customer's first contact.
Responsible for creating sales orders & invoices.
Responsible for making sure the order is distributed to the right person internally.
Performs other duties as assigned.
Position Requirements
Degree or Technical Degree in Marketing, Sales, or equivalent experience.
3+ years of Agricultural/Equipment Sales experience, required.
Possess computer proficiency in MS Office and EBMS or equivalent.
Ability to interpret a variety of instructions furnished in written, oral, diagram, and/or sketch form,
is a plus
Ability and willingness to travel occasionally (short term) Example of trade shows.
Self-starter, capable of working very closely with multiple internal and external customers.
Required Personal Attributes
Must exercise good judgment and integrity.
Possess the ability to take the order from beginning to the finished order.
Possess excellent organizational skills.
Possess excellent communication and collaboration skills.
Just like all Horning employees, the conduct of this sales representative must be consistent with good character, must be an appropriate reflective of our company's heritage.  Complete support of and willing adherence to Horning's mission and vision. Applicant must hold these standards as his/her own.
All qualified individuals may submit a resume and letter of interest to:
Trackback from your site.