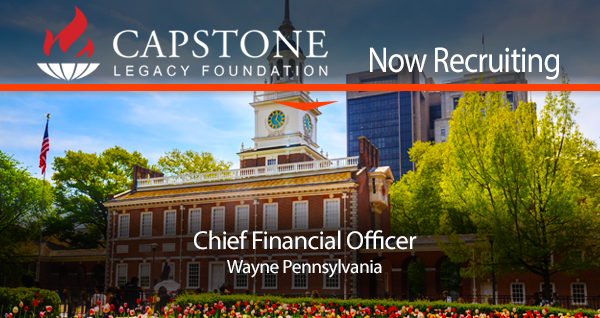 ---
Position Closed 
Looking to make a difference in our world? It's time to use all of your education and experiences to be an instrument of change.
In HIS Name HR is honored to have been retained by Capstone Legacy Foundation to seek their next Chief Financial Officer.  Capstone exists to educate and empower givers to increase generosity by planning strategically and establishing legacies to transform lives…in other words, preserving client's legacy while transforming lives through joyful giving.
What is Capstone Legacy Foundation about? Capstone is a 501 (c) (3) Christian community foundation dedicated to the preservation of donor intent. They believe that stewarding God's blessings is a form of obedience and worship.
Whether clients feel called  to fund good works or do good works, Capstone provides customized giving solutions that enable each dollar to go further. Capstone provides expertise in starting a foundation,  launching a ministry or helping investors with Christ-centered, morally driven giving. Capstone provides a diverse series of giving vehicles and fiduciary services that provide you with peace of mind, all while maintaining a kingdom-driven perspective on wealth.
Capstone's dedication to establishing clients legacy comes from their deep Pennsylvania roots. Although Capstone was organized in 2005, their financial and spiritual legacy stems from one of America's oldest industrial firms—the Lukens Steel Company—founded in 1810. This 200+ year perspective inspires their efforts to ensure that they help clients giving echo into eternity.
The Chief Financial Officer will direct and oversee the financial activities of the corporation, direct the preparation of current financial reports and summaries, and create forecasts predicting future growth.
Some Essential Responsibilities:
Directs the preparation of all financial statements, including income statements, balance sheets, shareholder reports, tax returns, and governmental agency reports.
Compares donation and profit projections to actual figures and budgeted expenses to actual expenses; makes or oversees any necessary adjustments to future projections and budgets.
Reviews planning process and suggests improvements to current methods.
Analyzes operations to identify areas in need of reorganization, rightsizing.
Works with the CEO and other executives to coordinate planning and establish priorities for the planning process.
Studies long-range economic trends and projects their impact on future growth in donations and market share.
Identifies opportunities for expansion into new product areas.
Oversees investment of funds and works with investment bankers to raise additional capital required for expansion.
Oversees Accounting department, budget preparation, and audit functions.
Works with other department heads to monitor each department and make recommendations.
Driving the company's financial planning.
Performing risk management by analyzing the organization's liabilities and investments.
Deciding on investment strategies by considering cash and liquidity risks.
Ensure cash flow is appropriate for the organization's operations.
Manage vendor relationships
Prepare reliable current and forecasting reports.
Set up and oversee the company's finance IT system.
Ensure compliance with the law and company's policies.
Some Required Personal Attributes/Skills:
Excellent verbal and written communication skills.
Excellent interpersonal, negotiation, and conflict resolution skills.
Enthusiastic leader capable of managing diverse teams to reach a common goal; Initiating and completing projects; Make timely, effective and ethical decisions; Embody the entrepreneurial spirit; A self-starter who crafts creative solutions and opens doors to new donor relationships.
Actively and constantly listen to all constituents, focus especially on donor needs and know how to identify mutual benefits. Communicate excellently and compel audiences through writing and speaking.
Excellent organizational skills and attention to detail.
Excellent time management skills with a proven ability to meet deadlines.
Strong analytical and problem-solving skills.
Ability to prioritize tasks and to delegate them when appropriate.
Ability to act with integrity, professionalism, and confidentiality.
Thorough knowledge of employment-related laws and regulations.
Proficient with Microsoft Office Suite or related software.
Proficiency with or the ability to quickly learn the organization's CLF data collection systems to the fullest and Foundant C Suite software.
Position Requirements:
Bachelor's degree in Business Administration, Accounting, or Finance required.
Certified Public Accountant designation preferred.
Eight to ten years of experience in financial management required.
Serious and Confidential Inquiries Only 
All qualified individuals may submit a resume and letter of interest to: E-mail HR Team