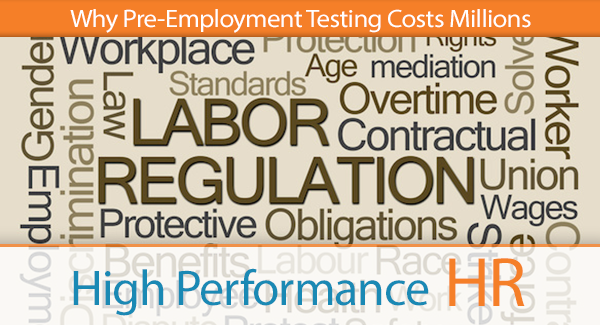 ---
Is your organization unknowingly violating federal and state employment laws? If so, you're not alone. Many unsuspecting professionals in both profit and nonprofit organizations manage via flawed human resource practices.
Why is being compliant with Equal Employment Opportunity Commission (EEOC) laws through proper HR practices important? Read the following cases to understand how organizations that thought they were doing things right discovered the hard way that they were not.
Large Company Cases
Target to pay $2.8M to upper-level applicants in EEOC settlement
Tests for upper-level jobs screened out blacks, Asians and women, EEOC says.
Target Corp. has agreed to pay $2.8 million to thousands of rejected job candidates for upper-level positions because tests they were given disproportionately screened out applicants based on their race or gender.
The payout was announced Monday by the Minneapolis Area Office of the U.S. Equal Employment Opportunity Commission (EEOC) and will be disbursed among more than 3,000 people, said Julie Schmid, acting director for the agency in Minneapolis. Source
BMW to Pay $1.6 Million and Offer Jobs to Settle Federal Race Discrimination Lawsuit
GREENVILLE, S.C. – The U.S. District Court for the District of South Carolina today entered a consent decree ordering BMW Manufacturing Co., LLC (BMW) to pay $1.6 million and provide job opportunities to alleged victims of race discrimination as part of the resolution of a lawsuit filed by the U.S. Equal Employment Opportunity Commission (EEOC). The lawsuit, filed by EEOC's Charlotte District Office, alleged that BMW excluded African-American logistics workers from employment at a disproportionate rate when the company's new logistics contractor applied BMW's criminal conviction records guidelines to incumbent logistics employees. Source
United Airlines to Pay over $1 Million To Settle Disability Lawsuit
Supreme Court Lets Stand 7th Circuit Ruling That Reassignment Is Reasonable Accommodation
In a case that garnered nationwide attention, air transportation giant United Airlines Inc. has agreed to pay more than $1 million and implement changes to settle a federal disability lawsuit filed by the U.S. Equal Employment Opportunity Commission (EEOC).
The EEOC's lawsuit charged that United's competitive transfer policy violated the Americans with Disabilities Act (ADA). The law requires an employer to provide reasonable accommodation to an employee or job applicant with a disability, unless doing so would impose an undue hardship for the employer. By requiring workers with disabilities to compete for vacant positions for which they were qualified and which they needed in order to continue working, the company's practice frequently prevented employees with disabilities from continuing employment with United, the EEOC said.  Source
Small to Medium Sized Company Cases
Stack Bros. to Pay $140,000 to Settle EEOC Age Discrimination and Retaliation Suit
Employees Were Fired at Superior, Wis., Firm for Turning 62, Federal Agency Charged
MADISON, Wis. – Stack Bros. Mechanical Contractors, Inc. of Superior, Wis., a major heating and plumbing contractor in northern Wisconsin and northern Minnesota, will pay $140,000 and furnish other relief to settle an age discrimination and retaliation lawsuit brought by the U.S. Equal Employment Opportunity Commission (EEOC), the agency announced today.
According to EEOC's suit, Stack Bros. discrim­inated against Randy Virta and Karen Kolodzeske by firing them when they turned 62 in 2014. Stack Bros. also retaliated against Kolodzeske for resisting its plans to fire her, EEOC alleged.
According to Julianne Bowman, director of the EEOC's Chicago District, which includes Wisconsin, the agency's pre-lawsuit investigation revealed that both Virta and Kolodzeske repeatedly warned Stack Bros.' owner that his plan to fire them when they turned 62 was illegal. However, the owner refused to relent, and, after firing Virta, retaliated against Kolodzeske for her complaints by denying her a raise, suspending her without pay for two days and creating a hostile work environment while waiting for her to turn 62. Virta and Kolodzeske had worked for Stack Bros. for 16 and 25 years, respectively. Source
Texas Oil Field Services Company Pays $30,000 to Settle EEOC Retaliation Suit
Only Female Roustabout Fired for Reporting Sexual Harassment, Agency Charged
DALLAS – An Iraan, Texas oil field construction and services company will pay $30,000 and furnish other relief to settle a retaliation lawsuit brought by the U.S. Equal Employment Opportunity Commission (EEOC), the federal agency announced today.
The EEOC's suit, filed in U.S. District Court for the Western District of Texas, Pecos Division (4:14-CV-00073-DAE), charged that Garrison Contractors, Inc. fired its only female roustabout, Elma Garza, after she reported being sexually harassed on the job.
Hired by the company in January 2012 as a dump truck driver, Garza spent most of her employment as the company's only female oil field worker. In this roustabout position, Garza worked side by side with her male co-workers fixing oil and gas leaks, digging ditches and cleaning heavy equipment. EEOC said that during her employment, Garza was subjected to lewd comments about female organs and sex. EEOC contends that when Garza reported the unwanted conduct, the company retaliated against her by terminating her.
Retaliation for reporting sexual harassment violates Title VII of the Civil Rights Act of 1964. The EEOC filed suit after first attempting to reach a pre-litigation settlement through its conciliation process.  Source
EEOC Sues Seymour Midwest for Age Discrimination
Agency Alleges Company Rejected an Applicant Older than Its Ideal Age
INDIANAPOLIS — Seymour Midwest, a Warsaw, Indiana, hand tool manufacturing company, violated federal law when it rejected a 58-year-old executive upon learning that he was older than the company's ideal age range of 45-52, the U.S. Equal Employment Opportunity Commission (EEOC) charged in a lawsuit it filed today.
According to EEOC's suit, Seymour Midwest selected Steve Maril, from a pool of applicants for its senior vice president of sales position, to participate in an initial, email-based interview. In addition to questions about Maril's experience and willingness to relocate, the company asked whether Maril was within its ideal age range of 45-52. When Seymour Midwest learned that Maril was older than its ideal age range, the company refused to hire him.  Source 
Church and Nonprofit Cases
EEOC Sues United Bible Fellowship Ministries for Pregnancy Discrimination
Organization's Policy Requiring Pregnant Employees to Resign Is Discriminatory, Federal Agency Charges
HOUSTON – United Bible Fellowship Ministries, Inc., an organization that provides faith-based, community social services, violated federal law when it forced female employees out of their jobs because of their pregnancies, the U.S. Equal Employment Opportunity Commission (EEOC) charged in a lawsuit announced today.
According to the EEOC's suit, Shamira Johnson worked as a resource technician, providing home care assistance to disabled individuals. Her duties included housecleaning, light laundering, administering medication, cooking and assisting with personal hygiene and grooming. United Bible terminated Johnson and other pregnant employees according to its "Pregnancy in the Workplace Policy" which required pregnant women in direct client-care positions to stop working during their pregnancy and reapply for a vacant job once they were no longer pregnant. Johnson did not return to work at United Bible after her pregnancy. The policy also unlawfully required applicants to disclose their pregnancy when applying for employment.  Source
Inconsistencies in Termination Decision Wipe out Employer's Victory
The U.S. Court of Appeals for the Seventh Circuit recently erased the victory of the Good Samaritan Ministries in an employee termination case, Ledbetter v. Good Samaritan Ministries, et al., — F.3d —- (7th Cir. Feb. 6, 2015), sending the case back to the trial court for further litigation.
The employee, Linzie Ledbetter (male), worked in a homeless shelter and food pantry. After a shelter resident complained about Ledbetter's alleged threat to evict her, Ledbetter's supervisors met with him and warned him that such behavior could result in disciplinary action, including termination. As a result, Ledbetter filed an EEOC charge—and later, a federal lawsuit—claiming race discrimination and retaliation under Title VII of the Civil Rights Act of 1964.
Shortly thereafter, Ledbetter filed a second EEOC charge for race discrimination and was subsequently warned again about his behavior toward the shelter residents and toward his co-workers. The day after his supervisors learned of the second EEOC charge, they fired Ledbetter, prompting a third EEOC charge and another lawsuit for retaliation.
In the trial court, Good Samaritan Ministries and its supervisors argued that Ledbetter's termination was not prompted by the second EEOC charge, because they had decided to fire him five days before they even knew of the charge. The trial court agreed with their argument and granted summary judgment in their favor.  Source
King's Way Baptist Church Sued By EEOC for Retaliation
Kindergarten Teacher at Church's Christian School Fired for Complaining About Sexual Harassment by Pastor, Federal Agency Charges
ATLANTA – The King's Way Baptist Church, Inc. of Douglasville, Ga., violated federal law when it fired a kindergarten teacher at its King's Way Christian School for reporting sexual harassment by its chief executive officer / pastor, the U.S. Equal Employment Opportunity Commission (EEOC) charged in a lawsuit it filed recently.
According to the EEOC's complaint, the pastor repeatedly subjected the teacher to sexual harassment by touching her inappropriately and made veiled threats to her if she should complain. When the teacher complained about the harassment, rather than taking measures to prevent any further harassment, King's Way fired her.
These actions violate Title VII of the Civil Rights Act of 1964, which prohibits employers from firing, demoting, harassing or otherwise retaliating against employees because they complained to their employer about discrimination on the job. EEOC filed suit (EEOC v. The King's Way Baptist Church, Inc., Civil Action No. 1:15-cv-03816) in U.S. District Court for the Northern District of Georgia, Atlanta Division after first attempting to reach a pre-litigation settlement through its conciliation process. EEOC is seeking back pay and compensatory and punitive damages for the former teacher, as well as injunctive relief designed to prevent future discrimination.  Source
Miscellaneous Cases Of Interest
Employers Beware: EEOC Stepping Up Disability Discrimination Enforcement
On the heels of that news, 10 of the 22 lawsuits filed or settlements reached by the EEOC in May included allegations of disability discrimination. That's a .455 batting average for the ADA, which is none too shabby in anyone's book. Some of the issues addressed by the EEOC in the past month include:
A $72,500 settlement with an Akron, Ohio, medical transportation services company, which fired an EMT-paramedic with multiple sclerosis instead of providing additional leave as a reasonable accommodation.
A $110,000 settlement with Norfolk Southern Railway Company, which medically disqualified a track maintenance worker because of degenerative disc disease without doing an individualized assessment of whether he could perform the essential functions of his job.
A $90,000 settlement with a Tennessee nursing home facility, which terminated an HIV-positive nurse.
An $18,000 settlement with an Alabama athletic apparel retailer, which fired a legally blind sales clerk (who lost his full use of his sight while serving in the Army) without any consideration of whether an accommodation, such as a magnifying glass or a new computer monitor, might be reasonable.  Source
_________________________________
At In HIS Name HR LLC our primary role is to assist the client to identify needs, develop an action plan and facilitate change to enhance the success of your organization. Our management, human resource, and training services are designed to improve quality, safety, productivity, efficiency, and communication while improving employee morale.
With our vast experiences spanning many industries we will create the HR programs that will drive excellence. Contact us today. You will be glad you did.
Don't be left unprepared.  Contact us today.  You will be glad you did.