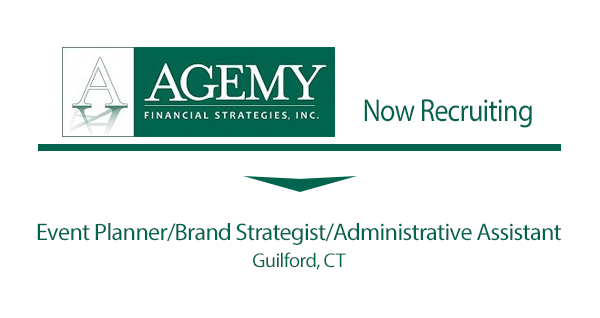 ---
Position Closed 
We are excited to be retained by this wonderful organization, Agemy Financial Strategies Inc.  to assist in recruiting a Event Planner/Brand Strategist/Administrative Assistant for their Guilford, CT location.
Agemy Financial Strategies exists for the purpose of helping people achieve their personal and financial goals. Their philosophy is to deliver quality financial programs and teach principles for successful living.
This person handles the promotion of the company for the purpose of developing and managing new relationships. They find creative ways to enhance the Agemy Financial Strategies brand and the services and education we provide. They establish marketing strategies which complement the objectives of the company in building relationships with clients and probable clients.
Start building your brighter tomorrow today.
Some Essential Responsibilities:
Research and develop innovative marketing campaigns to generate leads for probable clients.
Develop innovative marketing campaigns, brand awareness and themes for various events.
Create and implement multiple programs to develop and grow general inquiries and leads across multiple channels, including but not limited to:

Internet marketing,
Direct mail,
Email solicitation,
Integrated telemarketing,
Various radio,
Print media, and
Any other avenues

Build and maintain the Branding Platform comprised of:

Social Media,
Newsletter,
Blogs,
Website,
Magazines,
Drip Mailing, etc.

Organize and implement customer relations through programs provided thru partners and outsourcing, including but not limited to:

Trade shows,
Customer surveys,
Educational/instructional events,
Referral events,
Annual client appreciation event, and
Other events and activities.

Initiate Adult Ed programs in various regions.
Test and Measure: Track and monitor performance and metrics of events to determine effectiveness and report regularly to management.
Continuing development and administration of a menu of various venues, with forward planning of 12+ months.
Some Position Requirements:
Bachelor's degree in Communication or Marketing, or five (5) years related experience and/or training; or equivalent combination of education and experience.
One (1) to five (5) years of in fast paced office environment, a plus.
Time management skills.
Valid driver's license.
Must be able to work days, evenings, and weekends for scheduled events.
Proficient use of Microsoft Office Suite, including Word, Excel, and Outlook.
Experience using mainstream social media platforms.
Complete support of and willing adherence to Agemy Financial Strategies, Inc. mission, vision and core values. Applicant must hold these standards as his/her own.
Some Required Personal Attributes:
Represent the firm with the highest standards of professionalism and integrity.
Have a willing attitude to help out as necessary.
Articulation and creativity are essential.
Ability to work as a team member and as an individual contributor.
Ability to manage multiple projects effectively.
Ability to organize and prioritize.
Show respect to clients, vendors, other team members and those in authority.
Benefits: 
401k with match
Dentel plan
Health insurance
Paid vacation/ holidays/ sick days/ personal days
Location Will Be:
Agemy Financial Strategies
741 Boston Post Road #308
Guilford, CT 06437
Learn Why Customers Choose Agemy Financial Strategies 
Due to the overwhelming response we ask that you are patient during the selection and interview process. All qualified applicants will be notified.
All qualified individuals may submit a resume and cover letter which includes why you should be considered for the position and what would make you the best candidate to:
Email HR@InHISNameHR.com
Agemy Financial Strategies Inc. is an Equal Opportunity Employer.
Want to get future vacancies and blog updates?  Subscribe here: Click