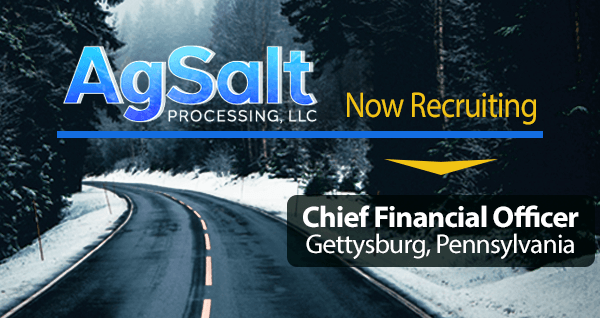 Now Recruiting For: Chief Financial Officer (CFO) Gettysburg PA
---
We are excited to be retained by this wonderful organization to find their next Chief Financial Officer.
AgSalt produces high-quality salt products for agricultural, commercial, and residential uses. Since their establishment in 1989, they have developed a comprehensive product line, including ice melt salts and feed mixing products, as well as magnesium chloride and calcium chloride.
Do you desire to work with a team possessing great values?  Reliability has always been important to AgSalt, so much so that they express it as a core value of theirs. AgSalt employees are intent on being and working with reliable co-workers—it's not just something they tell their customers. In today's world, companies like AgSalt excel with a reliable team.
Purpose of Position
To provide CFO leadership by joining AgSalt's management team and managing the financial affairs of the company.  Alsooversee the accounting functions and to provide financial reports, advice, and support to the CEO and ownership thus enabling them to make sound business decisions.
Responsibilities include, but not limited to the following:
Management
Participate in long term and annual planning process and meetings
Participate in quarterly management meeting
Participate in weekly management meetings and leadership
Lead department meetings and keep staff adequately trained
Serve as an assistant to the CEO:

Manage legal documents, agreements, filings, contracts, and research
Build systems, spreadsheets, processes, procedures
Annual reports
Annual cost analysis and budget
Annual Reviewed financial statements
Fair Market Value report
Goodwill calculation and report
Quarterly financial reports
Quarterly adjustments and financial reports
Loans
Private notes
Credit line
Bank loans
Accounting management
Oversee Ordering, Invoicing, Payables and Receivables
Oversee QuickBooks accounts
Bill payments
Salary payments
Partner reimbursements and payouts
New customer final credit approval
Develop spreadsheets, as needed
Cash/Investments
Oversee accounting functions of AR, AP, Payroll, etc.
Manage retirement plan investments
Conduct review & evaluations for cost-reduction opportunities
Keep abreast of changes in financial regulations and legislation and advise accordingly
Tax preparation
1099s
W-2s
Tax preparation and collaboration with tax accountant
Banking
Deposits
Reconciliation
Loan payments
Positive Pay
Quarterly financial statements to bank
Office Management
Accounting software and upgrades
Set up new employees' accounts
New employee legal and payroll documents
Some Of  The Knowledge and Skills Required
Build trust, respect, and open communication.
Ability to use organizational, communication, and interpersonal skills to administer policies and procedures.
Ability to work with all levels of management.
Ability to work cooperatively with other professionals.
Familiarity with project and department budget process and tools.
Leadership ability.
Multi-tasking ability.
Communication, meeting, and presentation skills.
Comfort with time reporting systems.
Excellent analytical and problem-solving skills.
Excellent written and verbal communication skills.
Excellent organizational skills and attention to detail.
 Position Requirements
Bachelor's Degree in Accounting or Finance.
5-10 years' work experience in accounting or finance.
Working experience in QuickBooks system, required.
Advance Knowledge of Microsoft excel including complex formulas and pivot tables, required.
Proficient in Microsoft Office 365 Suite, and video conference systems, etc.
At times the person will be privileged to information that should not be shared. The person must maintain strict confidentiality in performing the duties.
Complete support of and willing adherence to AgSalt's mission, vision, and core values.Applicant must hold these standards as his/her own.
AgSalt's culture – Participate in a sense of identity with AgSalt and contribute to producing a compelling vision of the future and put core values into practice.
Cover letter should include why you should be considered for the position, what makes you the best candidate, and how you will advance the growth of the AgSalt organization.
Cover letter should include why you should be considered for the position, what makes you the ideal candidate, and how you will advance the growth of the AgSalt organization.
All candidates must apply here: Indeed 
Having issues applying through Indeed?  Contact us here:   Email HR Team 
Want to get future vacancies and blog updates? Subscribe here: Click
Trackback from your site.