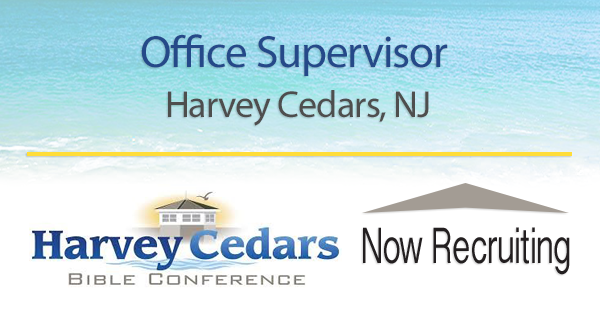 Now Recruiting: Office Supervisor
---
Harvey Cedars Bible Conference (HCBC) is a Christian Conference and Retreat Center nestled between beautiful Barnegat Bay and the Atlantic Ocean at the Jersey Shore.
HCBC operates year-round to provide affordable Christian conferences, retreats, and family vacations. Whether it's a mid-week board meeting or a weekend event, they offer a wide range of accommodations and meeting spaces to suit groups from 25 to 400.
For generations, the body of Christ has enjoyed gathering and growing here. Young people are especially drawn to our shore location and facilities. Each year approximately 2,000 college students and 3,000 high school students come to the Conference to learn more about God's Word and the person of Christ.
The purpose of the position is to advance the Mission of Harvey Cedars Bible Conference through the supervision of the office and improvement of hospitality to our guests.
Some Essential Responsibilities:
Guest Services/Hospitality:
 Establishes a system for reservations and regularly reviews same in order to maximize efficiency and improve service to the guests.
Communicates reservation information on a timely basis to the Food Service Supervisor and the Housekeeping Coordinator.
Works with the Operations Director in organizing weekend retreats; especially regarding guest needs and special request.
Develop tools and systems to better receive our guests, provide them with a better stay, and see them off well.
Create and administer the At-A-Glance, making sure that each activity/event is happening, staffed and on time.
Make sure guests are comfortable in their meeting spaces.
Organize inventory of HCBC equipment (Ex. Projectors, remotes, sound, chairs, tables, podiums, media carts boards, displays, etc.)
Group and Event Reservation:
Work alongside our retreat coordinator and reservations.
Second in line for phone inquiries behind retreat coordinator.
Second in line for tape chart responsibility.
Responsible for yearly retreat calendar in Outlook.
Retrieve guest info/needs one month in advance of retreat.
Responsible for petty cash and deposits for group payments.
Oversee vending receipts and change machines.
Housekeeping:
Oversee housekeeping.
Conduct yearly review of Head of Housekeeping with Operations Director and review the evaluations of all
sub-staff.
Assist with staff hiring when needed.
Office Administration:
Oversees the office staff regarding receptionist policies and etiquette.
Schedules office personnel working hours, and assigns them their duties.
Responsible for Training all office personnel, housekeeping, and guest services in all areas of their
responsibility.
Oversees staff mail distribution.
Assess and benchmark office procedures and takes steps to make improvements.
Reviews the atmosphere and work areas of the employees and works to ensure a
positive, workable environment.
Maintains personnel records.
Performs annual reviews of office personnel (under their supervision).
Accounting:
Prepares deposits, accounts receivable and accounts payable.
Reviews purchase orders, check requisitions, and like documents and refers appropriate
ones to the Executive Director.
Prepares payroll; tallies timesheets, collects pertinent information from employees.
Some Required Personal Attributes:
High-level of effective interpersonal communication skills, both written and verbal plus, organization and presentation skills.
Strong desire to be a part of an organization with an entrepreneurial spirit and a fast paced, result-oriented culture.
Some Position Requirements:
High school diploma or GED; Two-year Technical school in an accounting; or equivalent combination of education and experience.
5 to 10 years' experience in office environment.
Must at least 1 to 5 years of supervision experience.
Must be able to work well and effectively with the public.
Must be proficient in Microsoft Office & Outlook.
Complete support of and willing adherence to Harvey Cedars Bible Conference's mission, vision and core values. Applicant must hold these standards as his/her own.
Location will be: Harvey Cedars Bible Conference 12 Cedars Ave Harvey Cedars, NJ
All qualified individuals may submit a resume and letter of interest to: