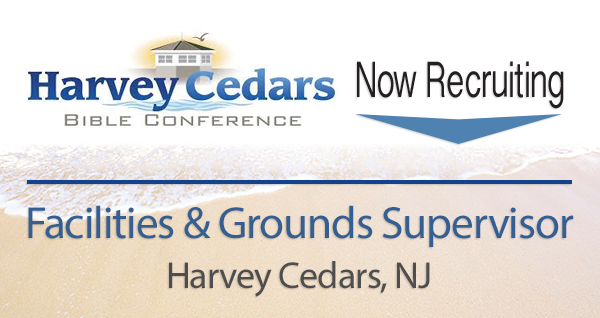 Now Recruiting: Facilities & Grounds Supervisor
---
Position Closed
Facilities & Grounds Supervisor
Harvey Cedars Bible Conference (HCBC) is a Christian Conference and Retreat Center nestled between beautiful Barnegat Bay and the Atlantic Ocean at the Jersey Shore.
HCBC operates year-round to provide affordable Christian conferences, retreats, and family vacations. Whether it's a mid-week board meeting or a weekend event, they offer a wide range of accommodations and meeting spaces to suit groups from 25 to 400.
For generations, the body of Christ has enjoyed gathering and growing here. Young people are especially drawn to our shore location and facilities. Each year approximately 2,000 college students and 3,000 high school students come to the Conference to learn more about God's Word and the person of Christ.
Purpose of Position:  To advance the Mission of Harvey Cedars Bible Conference through the maintenance of all facilities, keeping of the grounds, and ongoing safety and security inspections.
Some Essential Responsibilities:
Facilities Maintenance:
Oversee and with a hands-on approach, participate in the maintenance of all conference facilities, including preventative maintenance.
Coordinate the work of licensed contractors in the performance of maintenance.
Landscape/Grounds:
Responsible for keeping the landscape of the grounds maintained.
Responsible for all seasonal grounds maintenance work such as: plowing, shoveling, salting, etc.
Safety and Security:
Perform periodic safety inspections of the facilities with the operations manager and bring issues up to standards.
Investigate reported unsafe conditions, accidents and near accidents.
Responsible for various inspection certifications required for facilities & grounds.
Responsible for making sure that the grounds & facilities are safe for all personnel, contractors, vendors, and the public.
Develop and submit a monthly report highlighting successes and concerns in regards to facilities maintenance, landscape/grounds, and safety and security.
Work well alongside other departments that need assistance.
Approves appropriate check requisitions for payment for their department.
Perform miscellaneous other duties at the specific requests of the Operations Director and Executive Director.
Develop a volunteer program for facilities maintenance, landscape/grounds, and Safety & Security.
Some Required Personal Attributes:
High-level of effective interpersonal communication skills, both written and verbal plus, organization and presentation skills.
Strong desire to be a part of an organization with an entrepreneurial spirit and a fast paced, result-oriented culture.
Some Position Requirements:
High school diploma or GED; Two-year Technical school in a trade.
5 to 10 years' experience in a learned trade.
Must at least 1 to 5 years of supervision experience.
Some knowledge of Microsoft Office & Outlook preferred.
Some knowledge of building, frame, electric, plumbing, HVAC, painting, preferred.
Must be able to work well and effectively with the public.
Complete support of and willing adherence to Harvey Cedars Bible Conference's mission, vision and core values. Applicant must hold these standards as his/her own.
Location will be: Harvey Cedars Bible Conference 12 Cedars Ave Harvey Cedars, NJ
All qualified individuals may submit a resume and letter of interest to: