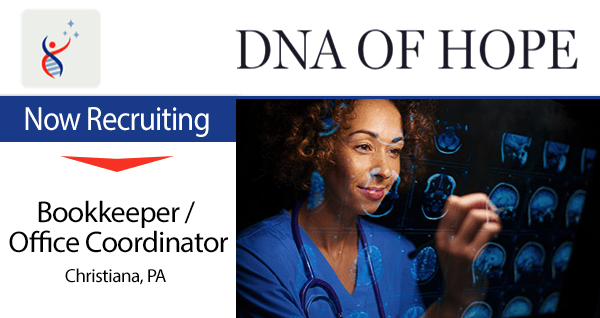 Now Recruiting: Bookkeeper/Office Coordinator
---
Now more than ever people need to take charge of their health. Come join an organization that is making a difference, a difference in so many lives. DNA of Hope offers years of experience in nutritional and functional medicine. We help recommend solutions that help you live in better health, vitality & joy. We take into account your lifestyle, diet, environment, and even DNA to recommend a tailor-made solution for you.
The Bookkeeper is to oversee the company's financial data and compliance by maintaining accurate books on accounts payable and receivable, payroll, and daily financial entries and reconciliations. Perform daily accounting tasks such as monthly financial reporting, general ledger entries, to record payments and adjustments.
Some Essential Responsibilities:
Maintains records of financial transactions by establishing accounts; posting transactions; ensure legal requirements compliance.
Inventory management by creating systematic approach to ordering, storing and maintaining products.
Maintains subsidiary accounts by verifying, allocating, and posting transactions.
Balance's subsidiary accounts by reconciling entries.
Maintains general ledger by transferring subsidiary account summaries.
Balances general ledger by preparing a trial balance; reconciling entries.
Maintains historical records by filing documents.
Prepares financial reports by collecting, analyzing, and summarizing account information and trends for inventory control/management.
 Medical Supplies & Supplements Responsibilities:
Maintain and order medical supplies and supplements:

Responsible for developing and maintaining the inventory ordering schedule.
Responsible for tracking of deliveries of medical supplies and supplements.
Manages disposal of inventory.
Responsible for developing and maintaining supplement buying program based on vendor sales and volume discounts and reports from owner.
Responsible for monitor growth and development reports on supplements.
Responsible for sending supplements to be mailed to clients, including but not limited to:

Setup invoice to clients
Check correct client shipping address
Check each supplement packed for accuracy (3xs)
Tracks packages delivered to clients

Reply to emails and phone calls regarding customer relationships.
Perform other duties as assigned.
Some Other Responsibilities:
Human Resources (HR):
Responsible for maintaining office staff by recruiting, selecting with approval from CEO/Owner, orienting, and training employees.
Responsible for maintaining office staff job results by coaching, counseling, and disciplining employees, and planning, monitoring, and performance reviews.
Responsible for maintaining personnel files.
Responsible for disposal of personnel records when required by law.
Responsible for creating/maintaining Job Descriptions for all employees.
Responsible for updating/maintaining the Employee Handbook
Marketing:
Coordinating flyers for company programs, events, new products, etc. with advertising person.
Responsible for all Social Media Marketing (Services).
Provide direct administrative support, as needed, including scheduling appointments, meetings, and events, booking travel (when needed), maintaining filing system, mailing, and shipping packages, and updating customer database and employee list.
Information Technology (IT):
Responsible for ordering new office equipment and software.
Responsible for ordering new medical equipment and software.
Some Required Personal Attributes:
Excellent verbal and written communication skills.

 

Excellent interpersonal, negotiation, and conflict resolution skills.
Excellent organizational skills and attention to detail.
Strong Data Entry skills.
Excellent time management skills with a proven ability to meet deadlines.
Strong analytical and problem-solving skills.
Ability to prioritize tasks and to delegate them when appropriate.
Ability to act with integrity, professionalism, and confidentiality.
Thorough knowledge of HIPPA-related laws and regulations.
Be a good team member with others.
Some Position Requirements: 
Minimum Associate degree in accounting, required and/or
4 + years of accounting experience, preferred.
Experience working with Desktop QuickBooks.
Proficient with Microsoft Office products including Access, Video Conference Systems, and Outlook (calendar, email, one-drive, etc.).
Willing to learn Biocanic, electronic medical record software.
Complete support of and willing adherence to DNA of Hope's mission, vision, and core values.

 

Applicant must hold these standards as his/her own.
Location will be: 1135 Georgetown Road, Suite 110, Christiana, PA 17509
All qualified individuals may submit a resume and letter of interest to: