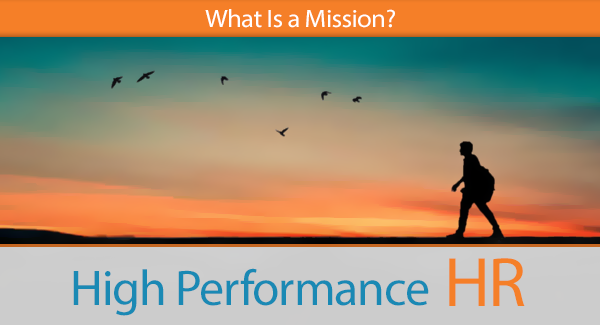 What Is a Mission?
---
Organizational Mission
All successful organizations have a Mission.  Without a Mission, well, no one will know what it is they are doing and why. Another problem organizations have when absent a Mission is that their customers and vendors often end up confused, having mixed expectations.
I have worked for many organizations in my time. Probably more than most, and I consider this to be a good thing. The reason I consider this a good thing is that the experiences that God has given me in these numerous and diverse organizations has made me a far more competent counselor to businesses across the marketplace than if I had occupied one narrow niche for most of my career.
One common denominator I have identified is that the businesses that are successful all have an established Mission  for their organization, a Mission that is co-developed by all of their employees and is ingrained into the culture of the organization. In fact, in high-performing organizations, candidates are exposed to the organizations 's Mission before they're even hired. Vendors know the Mission and Customers are aware, as well.
When Vendors know the Mission and Customers understand it, that's enormously positive, but the most powerful and impactful group are your Employees. In my wealth of experience, I have discovered an absolute truth by simply listening to employees for more than 20 years. Fully 99 percent of all employees who come to work every day, want nothing more than to do a good job; in fact, most want to exceed your expectations.  It really is the American way. Work hard, play hard and love your life. The problem, though, that many organizations suffer from is a lack of leadership to help steer the organization.
Specifically, they lack leadership in creating a Mission that employees own and strive to achieve.
What is a Mission?
Your Mission is simply what you do best — every day ­— and why.  Your Mission should reflect your customers' needs. Having a Mission is the foundation of turning the dreams and potential of an organization into reality.  So, in a nutshell, your Mission
simply affirms why your organization exists!
So what does a Mission consist of? Well, it really is not rocket science. It is simply what your organization collectively — yes, I said collectively — not top down management, or board of directors to management — developed. It works like this:
The senior management team develops a framework of what they believe the Mission is and should be.
Line management then takes the draft document to the line supervision.
Finally, employees and a good HR rep facilitate a roundtable session using the draft Mission as a guide.
You have a couple of reiterations, meetings back and forth, and then it's time for "Congratulations!" because you now have a consensus on your Mission. Now, of course, when it is being facilitated, the facilitator must be skilled in getting everyone on board with the final product.
Key is letting your employees know that each one of them has an opportunity to challenge it, provide their personal input and suggest changes, but that, ultimately, when the majority of the employees and management agree to the final document, then it is up to all employees to respect it and support it.
Benefits of Creating or Revisiting Your Mission.
The benefit of creating a Mission or revisiting a current one is that it opens up the communication process inside of your organization.  An effective Mission is based on input and commitment from as many people within your organization as possible. A Mission statement should not be an autocratic version of Moses and the Tablets.  All of your employees must feel and understand your organization's Mission.  Only then can they make the necessary personal commitment to its spirit.
Tips for great Missions:
Keep it short.
Describe WHY customers will buy from you.
Define your product or service clearly.
Identify WHO is your ideal customer.
Specify WHAT you offer your customer — benefits, services, advantages, etc.
Delineate what makes your product or service different from that of your competition.
Examples:
Google: "We organize the world's information and make it universally accessible and useful."
Starbucks: "We inspire and nurture the human spirit — one person, one cup, and one neighborhood at a time."
Share with us your experiences with your organization's Mission.  How was it created?  Who was involved, how would you have changed the process?  Is the Mission applicable to you and your coworkers?  Share with us and help the community to learn and grow.
Trackback from your site.