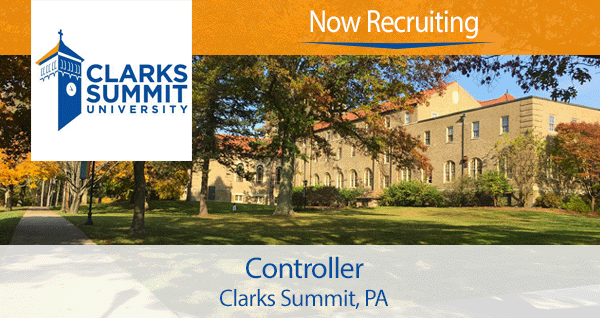 ---
For more than 80 years, Clarks Summit University has prepared men and women for Christ-honoring careers and ministries across the globe. Located in the foothills of the Endless Mountains of Pennsylvania, the university offers programs ranging from an associate, bachelor's, masters and doctorate degrees.
Purpose of Position:  
The primary purpose of all employees of Clarks Summit University (CSU) is to advance its Christ-centered mission and culture:
Seek to be a role model in attitude, speech, and actions in a consistent daily walk with Jesus Christ.
Follow Matthew 18 principles in addressing issues with students, parents, faculty, and staff.
Show by example the importance of Scripture memorization, Bible study, prayer, witnessing, and Christian fellowship.
Be prepared to communicate the school's religious beliefs to students and others who inquire.
Be ready to pray and offer spiritual advice to students, faculty, and staff.
The primary function of the Controller is to provide oversight for all financial matters of Clarks Summit University and the BBC Foundation including accounting, forecasts & budgeting, financial reporting & analysis, treasury, payroll, and compliance. The Controller directly manages the Business Office and HR and has organizational responsibility for Financial Aid, Information Technology, and Facilities.
Some Essential Duties:
General
Serves on the President's Cabinet and as administrative representative to the Finance Committee of the Board of Trustees
Provides oversight to ensure stakeholders are properly served, institutional policies are established & followed, and institutional priorities are realized.
Plans, organizes, directs, and oversees the work of assigned staff in the operations of the Business Office including accounts payable, accounts receivable and general accounting functions.
Supervising responsibilities include Accounts Payable Coordinator, Accounts Receivable Clerk, Human Resources Coordinator, Director of Student Accounts, Financial Aid Director, Director of Information Technology (Dual Report with Vice President of Academics), Director of Facilities.
Effectively oversees cash management of cyclical revenue and expenses (specific to the academic nature of the University and it's summer programs) to ensure accounts payable liabilities remain within acceptable terms.
Leads the preparation of the annual operating budget, monitors/projects revenue and expenses on a regular basis, and works with management on an on-going basis to ensure the annual financial goals are achieved.
Establishes & periodically reviews internal control policies and procedures to ensure that accounting standards are met. Administers corporate credit card program.
Identifies and recommends policies and procedures related to the financial and business practices of the University; plans and implements new operating procedures and information technology advances to improve service quality and efficiency of service delivery.
Effectively interacts with professional colleagues both inside and outside CSU.
Maintains confidentiality in all areas of responsibility.
Submit to and honor the standards outlined in the Employee Handbook.
Able to process clearly and quickly especially when planning and addressing the financial needs of the institution.
Specifics
Develops short and long range financial forecasts for use in financial planning and management of cash requirements and obligations.
Prepares month-end close including any necessary journal entries or adjustments, completes necessary reconciliations, issues monthly budget variance reports, and prepares internal financial statements necessary for the proper management of the institution including requested ad-hoc financial analysis as needed.
Processes bi-weekly payroll.
Prepares reports and surveys as required by regulatory and accrediting agencies.
Secures annual renewal and design of employee benefits including partially self-insured medical insurance and related ancillaries.
Provides all financial services for the BBC Foundation and interacts with investments managers to periodically review fund performance.
Oversees risk-management and ensures property insurance policies are in force to protect the University.
Directs the fiscal year-end close and ensures conformity with generally accepted accounting principles (GAAP) and federal and state laws.
Performs other duties as assigned.
Position Requirements/Qualifications: 
Faith

Have a personal relationship with Jesus Christ.
Be in complete support of and adherence to Clarks Summit University's Standards of Conduct and Confession of Faith.
Faithfully attend a local church whose beliefs are in agreement with Clarks Summit University.
Education and Experience

Bachelor's degree (minimal) with an Accounting major preferred, or a closely related field such as finance or business administration.
Three to Five years of experience as a controller.
One to two years in a senior-level accounting or financial management role.

Knowledge of principles and practices of accounting, auditing principles, financial reporting, accounting regulations and internal controls; principles and practices of employee supervision and personnel management; federal and state employment labor laws and regulations.

Certified Public Accountant (CPA) license is desirable.
Experience in a non-profit or educational institution is a plus.
Proven leadership skills to effectively direct employees while in a professional environment, ability to properly evaluate comprehension, and application of subject material.
Show excellent oral and written communication skills.
Be a self-starter, results-oriented, and able to motivate others.
Must be comfortable in a high-pressure environment and have the ability to handle multiple tasks with minimum supervision.
Must have a valid driver's license.
Experience with Microsoft Dynamics GP or similar accounting systems.
Proficient ability to use Microsoft Excel.
Knowledge of Windows, Power Point, Word and similar programs required.
Essential Qualities:
Conscientiousness
Displays a professional image at all times, even when facing significant job challenges.
Delivers on commitments made to others.
Takes ownership for resolving problems rather than allowing them to persist.
Displays positive "Can Do" attitude.
Flexibility
Adapts quickly to changing situations. This includes last-minute changes and disruptions to the schedule.
Is receptive to new information, ideas, or strategies to achieve the organization's goals.
Influencing/Negotiating
Anticipates potential reactions or concerns of students and takes initiative to address them.
Builds ownership for new initiatives, or changes by involving those responsible for implementation in planning the details.
Integrity/Honesty
Avoids any action or situation that would give the appearance of unethical, or inappropriate behavior.
Demonstrates the courage to do the right thing in difficult situations.
Holds self and others accountable for meeting high standards of the organization's integrity.
Leads by example through modeling ethical practices and standards.
Sensitivity
Treats others with respect, fairness, and consistency (e.g., listen to, respect others' views, and ideas).
Demonstrates empathy and understanding when addressing sensitive issues with others.
At times the

Controller

will be privileged to information that should not be shared and must maintain confidentiality.
Other Interpersonal Skills
High level of effective interpersonal communication skills, both written and verbal, plus organization and presentation skills.
Cultivates strong working relationships with employees and students
Other Interpersonal Skills
High level of effective interpersonal communication skills, both written and verbal, plus organization and presentation skills.
Cultivates strong working relationships with employees and students.
Just like all Clarks Summit University employees, the conduct of this employee must be consistent with good character, and must be an appropriate reflective of our organaization's heritage.  Complete support of and willing adherence to Clarks Summit University's mission vision and values.   Applicant must hold these standards as his/her own.  A statement of faith will be required of all final candidates.
Benefits: 
403b Retirement Plan
Vision coverage
Dental Coverage
Health insurance
Paid vacation/ holidays/ sick days/ personal days
Location Will Be:
Clarks Summit University
538 Venard Road
Clarks Summit, PA 18411
Due to the overwhelming response we ask that you are patient during the selection and interview process. All qualified applicants will be notified.
Cover letter should include why you should be considered for the position and what would make you the best candidate.
Want to get future vacancies and blog updates?  Subscribe here: Click