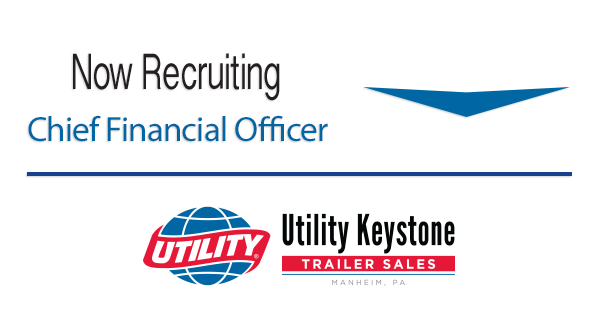 Now Recruiting For: Chief Financial Officer (CFO) Manheim PA
---
Position Closed 
We are excited to be retained by this wonderful organization, Utility Keystone to assist in recruiting a Chief Financial Officer for their Manheim PA location. With over 30 years in the industry Utility Keystone continues to build its legacy of providing the ultimate customer experience.
Purpose of Position
The CFO is accountable for the financial operations of the Company, including the development of operational and financial metrics to assess alignment to the Company's plan. Through their leadership, they set policies and procedures designed to protect the Company's assets from theft or misuse by establishing and maintaining effective internal controls and processes and report accurate financial results. As a member of the Leadership Team, the CFO works closely with the President and Department Heads to provide accounting supervision for all locations, as well as provide essential support to the Sales, Service, Parts, Inventory and Lease and Rental.
Some Of The Essential Duties
Planning
Assist in formulating the company's future direction and supporting tactical initiatives
Monitor and direct the implementation of strategic business plans
Manage the capital request and budgeting processes
Develop financial and tax strategies
Provide financial and tax counsel to President and Owners of related entities
Provide financial analysis tools to evaluate company ventures, special projects, capital expenditures, etc.
Operations
Participate in key decisions as a member of the executive Leadership Team
Create and manage financial controls and accounting procedures
Manage the accuracy and productivity of day-to-day activities of accounts payable, accounts receivable, credit/collections, cash disbursements, invoicing, inventory integrity, fixed asset records and cash handling
Implement operational best practices
Monitor and approve payroll
Provide oversight on various filings for dealer license, banking license, FET, sales tax,
1099, etc.
Financial Information
Prepare timely monthly and annual financial statements
Report financial information to President, LT members and banks
Coordinate all audit activities and investigate their findings and recommendations
Provide cash management reporting and forecasting
Third Parties
Lead relationship with accounting firm, bank(s), insurance agents, credit card companies and collection agencies
Manage and maintain commercial casualty/liability insurance
Participate in health insurance renewal
 Required Personal Attributes
Excellent verbal and written communication skills
Excellent organizational, time, and stress management skills to complete the required tasks
Ability to learn quickly in a fast—paced environment
Self—confidence
Proactive to forecast and foresee potential issues
Ability to perform and execute strategic planning
Excellent leadership skills
Excellent problem—solving skills
Strong people skills
 Position Requirements
Bachelor's degree in Accounting plus 10 years' experience in senior financial management position; or equivalent combination of education and experience. CPA designation and/or MBA preferred.
Experience in streamlining financial systems and processes
Experience in supervision or management of employees
Proficient in Microsoft products.Strong knowledge and experience in using service operating systems a plus.  Use of all current technology as a communication and efficiency tool is a must.
Complete support of and willing adherence to Utility Keystone's mission, vision and core values.Applicant must hold these standards as his/her own.
Cover letters should include why you should be considered for the position and what would make you the best candidate.
Serious and confidential inquiries:  Apply Through Indeed
Want to get future vacancies and blog updates? Subscribe here: Click
Trackback from your site.