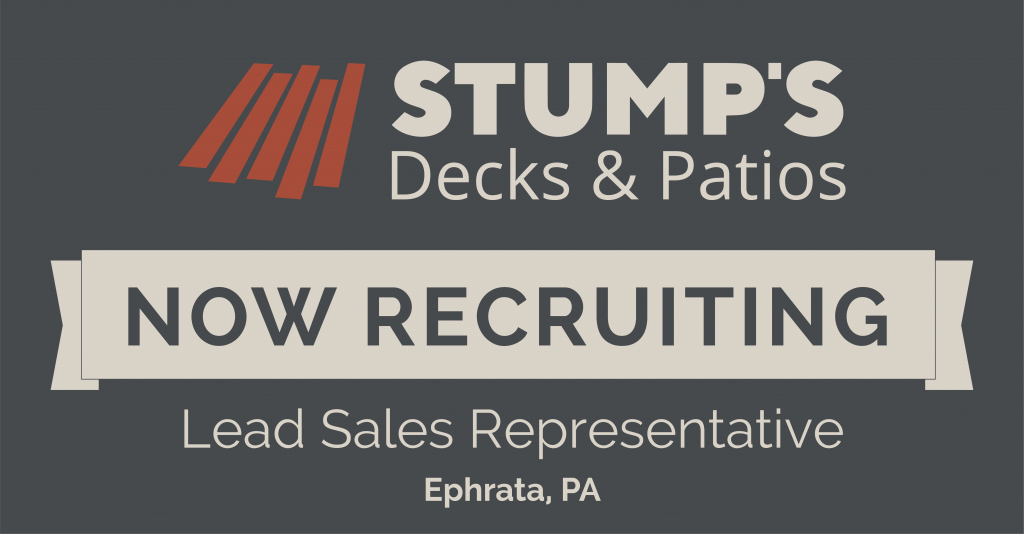 Now Recruiting: Lead Sales Representative, Ephrata PA
---
Position Closed 
Lead Sales Representative
Enhancing outdoor living through design & craftsmanship with integrity. Stump's Quality Decks and Porches is a deck contractor that specializes in building long-lasting decks and porches in Lancaster, Lebanon, Berks, and Chester counties. We design and install decks made from pressure treated wood, vinyl/composite, and exotic hardwoods, as well as gazebos, pergolas, sunrooms, and screened-in porches.
Purpose of Position: The Lead Sales Representative is responsible for establishing and maintaining profitable relationships with customers. The Lead Sales Representative has primary responsibility for ensuring that the products meet the customer's needs.
Some Essential Duties:
Representing the company in any sales/related activities, including:

Researching new products
Customer prequalification
Sales visits
Drawings
Proposals
Revisions, and
Ongoing customer care

Responsible for handling all unique job requests with customer's.
Responsible for establishing and maintaining profitable relationships with customers within a 1 hour and 20-minute radius from Company location for customer projects.
Responsible for maintaining customer relationships throughout the whole project which includes start of project to end of project.
Required to attend all company meetings & occasionally assisting in emergency jobs or other labor tasks.
Responsible for requesting customers to participate in the customer rating on-line system.
Responsible for notifying the right people at Stump's to handle any concerns, or problems with the products that you are made aware of by the customer. You are the customer's first contact.
Some Additional Responsibilities (In Office):
Maintaining up-to-date knowledge of industry trends in order to serve as an informational resource to management and customers during off season.
Assisting in Marketing with Website/Brochure redesign every other year.
Responsible for posting new photos to website, Houzz and other social networks.
During off season, required to attend and work at least two (2) home shows per year.
Responsible for all follow-up with customers on any issues.
Google docs for all customer proposals, price work-ups, current changes during project.
Participating in company sales and marketing meetings at the corporate office.
Some Required Personal Attributes
High-level of effective interpersonal communication skills, both written and verbal
plus organization and presentation skills.
Excellent communication skills, both verbal and written, a positive attitude is important.
Dependable
Honest
Professional
Ability to learn quickly in a fast paced environment.
Strong desire to be a part of an organization with an entrepreneurial spirit and a fast paced,
Result-oriented culture.
Some Position Requirements
High school diploma, or GED.
A minimum of 3 – 5 years of construction sales experience, or related field.
Sales experience with an emphasis in decks & porches a plus.
Knowledge of deck building preferred.
Computer experience is required in:

Microsoft Office – Word, Excel, Google E-mail, Google doc., Google Calendar.

Complete support of and willing adherence to Stump's Quality Decks & Porches' mission, vision and core values.Applicant must hold these standards as his/her own.
All qualified individuals may submit a resume and letter of interest to:
Trackback from your site.