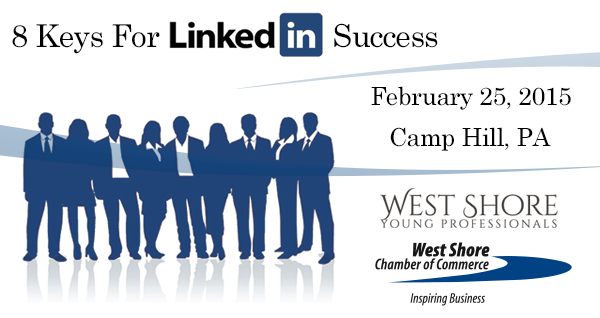 8 Keys For LinkedIn Success February 25, 2015 Camp Hill PA
---
West Shore Chamber of Commerce
and
West Shore Young Professionals
present
8 Keys for LinkedIn Success
Giant Food Store Community Room
February 25, 2015
11:30AM‒1:00 PM
Open to Students and the Community

Struggling to understand why and how to use LinkedIn to promote yourself or your business? Struggle no more.
LinkedIn is a great way to connect with customers, clients, and vendors. Learn why LinkedIn is important for business and how to market yourself and your organization using LinkedIn. Learn to use and leverage LinkedIn Forums and how to optimize your personal and organizational page profiles.
Three key techniques you will learn:
How to engage with your LinkedIn Network
Ways to develop and expand your Network with purpose
How to create an effective LinkedIn presence
Come join us. We will help you understand LinkedIn etiquette and good LinkedIn networking techniques, and how to most effectively leverage LinkedIn groups.
Your Presenter:
Mark A. Griffin, Founder and Chief Consultant of In HIS Name HR LLC, a human resources outsourcing and career-coaching firm. Mark will inspire you to develop your company and personal web presence through the use of the powerful social media tool LinkedIn.
In HIS Name HR LLC has a built a strong web presence with over 2500 Facebook followers, 25,000 Twitter followers and 2600-plus connections on LinkedIn. Mark applies his more than two decades of human resources expertise to help companies pilot the complex issues of managing HR.
Trackback from your site.