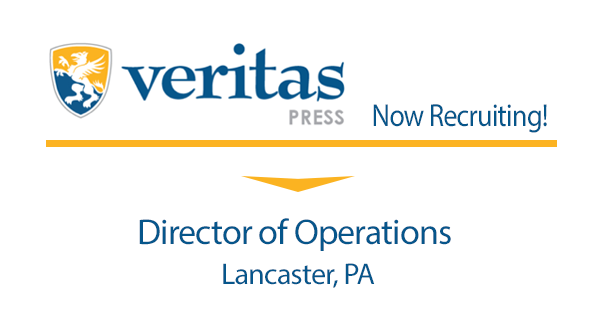 Now Recruiting Director of Operations Lancaster, PA
---
Position Closed 
We are excited to be retained by this wonderful organization, Veritas Press to assist in recruiting a Director of Operations for their Lancaster Pennsylvania corporate office.
Veritas Press is a Christian organization dedicated to providing the best classical Christian education materials and services anywhere.
The Director of Operations will oversee all aspects of routine operations including AP, AR, HR, technology and special events under direction of VP of Finance and Administration with goal of maximizing revenues, planning for future growth, and containing costs at optimal levels.
Some Responsibilities Include:
Negotiating terms and discounts with vendors of materials, curriculum and services.
Oversee or actually purchase and maintain curriculum materials, update pricing and materials in MOM and Magento, acquire review copies, and research alternative materials, while working to minimize back orders and problem items.
Assist VSA staff with course kit development, pricing, and structure.
Oversee organizational health insurance policies.
Oversee the operational systems, processes and policies in support of the company mission through management reporting, information flow and management, business processes and organizational planning for future needs.
Play a significant role in long-term planning, including initiatives geared toward operational and fiscal planning.
Assist Vice Presidents of Curriculum Development, Educational Services, Marketing, and International Business with special projects as appropriate.
Manage facilities, including coordination with technology contractors, custodial services, property management, and facilities contractors.
Continually seek to improve operational systems by reviewing other systems and researching alternatives.
Coordinate and manage all aspects of special projects.
Oversee website maintenance.
Oversee management of warehouse, including shipping practices, employee scheduling, supply purchasing, receiving and stocking of materials, liquidation of overstock or damaged products, and annual inventory activities.
Oversee the security of Veritas's customer data including PCI compliance.
Partner with management to ensure operational excellence;
Develop operations system improvements by analyzing process work flow, manning and space requirements, and implementing changes when necessary;
Foster an environment of teamwork while developing employees to achieve goals and objectives.
Other responsibilities as determined by the Vice President of Finance and Administration.
Some Requirements Include:
A bachelor's degree
Conversant with and supportive of the reformed faith and classical Christian education according to the VSA Statement of Faith and Philosophy.
Extensive business administration experience is highly desirable.
Experience with financial management and assisting executive staff.
Work in the headquarters office in Lancaster, PA.
Willing to work long hours when needed.
Tech savvy and experience with generic office products.
Strong ERP (Enterprise Resource Planning) experience

Experience in implementation of software and process improvement initiatives.
Experience in warehouse management and fulfillment including software and databases
Experience with ecommerce

3+ years IT experience
Veritas employees always go the extra mile to serve their client's educational needs. Want to join a winning team? Join Veritas today.
Location Will Be:
Veritas Press
1805 Olde Homestead Lane
Lancaster, PA 17601
Due to the overwhelming response we anticipate we ask that you are patient during the selection and interview process. All qualified applicants will be notified.
All qualified individuals may submit a resume and cover letter which includes why you should be considered for the position and what would make you the best candidate to:
Email HR@InHISNameHR.com
Veritas Press is an Equal Opportunity Employer.
Want to get future vacancies and blog updates?  Subscribe here: Click
Trackback from your site.