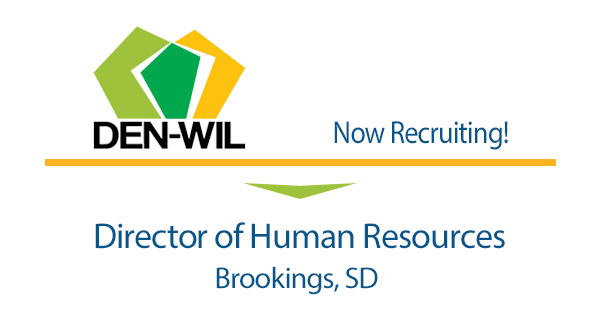 Now Recruiting: Director of Human Resources Brookings, SD
---
Director of Human Resources
Den-Wil is a Brookings, South Dakota based hospitality, residential leasing, construction and development company that creates and maintains diverse projects addressing needs of the Brookings market.  Den-Wil continuously earns recognition for undertaking large, innovative projects, that enhance growing the Brookings and South Dakota State University community. Den-Wil is able to achieve this by recognizing that their employees are Den-Wil's greatest assets and every employee plays an important part in our success.
Like any great team, they are comprised of different people from different backgrounds fulfilling different roles. These differences make them strong and their strength aids in delivering a superior customer experience.
All great teams are built on respect for their teammates. Den-Wil is built on that same respect. By respecting what each person brings to Den-Wil, they achieve great things together with all employees.
The Director of Human Resources will lead and direct the routine functions of the Human Resources (HR) department including hiring and interviewing staff, administering pay, benefits, and leave, and enforcing company policies and practices.
Some Essential Responsibilities:
Enhances the organization's human resources by planning, implementing, and evaluating employee relations and human resources policies, programs, and practices.
Ensures planning, monitoring, and appraisal of employee work results by training managers to coach and discipline employees; scheduling management conferences with employees; hearing and resolving employee grievances; and counseling employees and supervisors.
Implements employee benefits programs and informs employees of benefits by studying and assessing benefit needs and trends; recommending benefit programs to management; directing the processing of benefit claims; obtaining and evaluating benefit contract bids; awarding benefit contracts; and designing and conducting educational programs on benefit programs.
Ensures legal compliance by monitoring and implementing applicable human resource federal and state requirements, conducting investigations, maintaining records, and representing the organization at hearings.
Responsible for the administration and compliance of human resource programs including, but not limited to:

Compensation and benefits
Leave of Absence
Disciplinary matters
Disputes and investigations
Performance and talent management
Recognition, morale, employee retention for the organization
Occupational health and safety and Worker's Compensation
Job descriptions and exempt & non-exempt guidelines
Organization's Employee Handbook & Procedures
Compliance Regulations
Organization Job Descriptions
On-Boarding, terminations, lay-off/recall

Perform other duties as assigned.
Some Required Personal Attributes:
Conscientiousness
• Always displays a professional image, even when facing significant job challenges.
• Delivers on commitments made to others.
• Displays positive "Can Do" attitude.
Flexibility
• Adapts quickly to changing situations. This includes last minute changes and disruptions to schedule.• Will listen and evaluate new information, ideas, or strategies to achieve organization's goals.
Influencing/Negotiating
• Builds ownership for new initiatives, or changes by involving those responsible for implementation in planning the details.
Organizational Skills
• Organizes department materials, which include recruitment and department informational handouts.
• Provides organized periodic and ad HR reports to management.
• Organize department procedures.
Position Requirements:
Bachelor's degree in human resources, Business Administration, or related field required.
5+ years of human resource management experience required.
3 + years of human resources management experience in hospitality is preferred.
Proficient with Microsoft Office products, video conference systems, and Outlook (calendar, email, one-drive, etc.).
Proficiency with or the ability to quickly learn the organization's HRIS, QuickBooks.
Willing to travel to company sites in the Brookings area.
Complete support of and willing adherence to Den-Wil's mission, vision, and core values. Applicant must hold these standards as his/her own.
Location: Brookings, SD
Relocation Costs Not Provided
Cover letter should include why you should be considered for the position, what makes you the best candidate, and how you will advance the growth of the Den-Wil organization.
Send your confidential inquiry to Email HR Team no later than July 15, 2020.