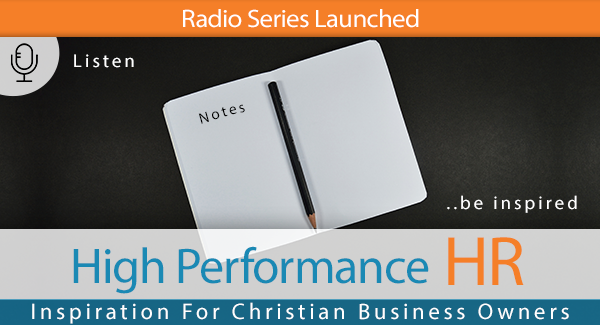 Good News for Tumultuous Business Times- Radio Series Launched to Inspire Christian Business Owners
---
Good News for Tumultuous Business Times- Radio Series Launched to Inspire Christian Business Owners  
Contact: Keith Wilson, Praise His Name, 740.264.4604; Mark A.Griffin, In HIS Name HR LLC, 717.572.2183.
Wintersville, OH – FEB 14,2012 /Christian Newswire/ "Praise HIS Name" in partnership with "In HIS Name HR LLC" announce the launch of a twelve week radio series highlighting faith in the Christian owned workplace. Tune in and enjoy listening to Mark A. Griffin, Chief Consultant, inspire you as he dialogues with host Dee Kovach, exploring twelve inspiring weeks of Christian Business topics.
Week 1-Why do you need to build a "Kingdom Minded" company?
Week 2-What is a "Kingdom Minded" company?
Week 3- What is an Organizational Mission?
Week 4- What is an Organizational Vision?
Week 5- What are Organizational Core Values?
Week 6- HR Practices, what are they?
Week 7-How to integrate Your Mission, Vision and Core Values into your HR Practices
Week 8-How to hire the best candidates for your company
Week 9- How to manage employees to their potential within your company
Week 10- How to get your non-performers off the bus
Week 11- Ways to effectively introduce Christ into your workplace
Week 12- How best to develop and manage your Company Culture
In HIS Name HR LLC specializes in Christian business consulting for Christian owned companies who want to integrate Christ into their workplaces through the implementation of High Performance Organization HR practices.
In HIS Name HR LLC's mission is to provide world class business consulting by assisting our clients in their quest to be prosperous and "Kingdom Minded." We provide progressive Human Resources programs that will increase profitability, eliminate non-value added practices, increase productivity, improve quality and, most importantly, enhance employee well being.
"Praise His Name" is the place where listeners can tune in and hear interviews, music from today's best Christian artists, inspirational messages, sermons from area pastors, talk shows with a Christian-based theme and yes, even comedy. Praise his Name is an Internet based radio station that allows on demand listening to what you want to hear, when you want to hear it. Best of all, the station is available 24-hours a day.
Praise His Name'sMission is to be the Voice calling out on the Internet!  An oasis of Peace, Truth, Grace and Love in a world looking for real answers.
Learn more about Mark A. Griffin and his quest to help the Christian owned company live their faith by visiting him at www.InHISNameHR.com, or call him 717.572.2183 or contact him on www.Twitter.com/InHISNameHR.
Trackback from your site.