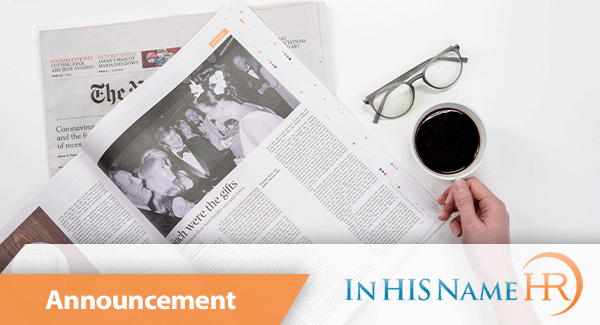 ---
FOR IMMEDIATE RELEASE
Amy E. Fineman Joins In HIS Name HR LLC
Lancaster, PA, US – April 4, 2023 – In HIS Name HR LLC, based in Lancaster, PA, has announced that Amy E. Fineman has joined the company as Human Resources Partner.
Amy possesses extensive recruitment and HR industry experience. Previously, Amy led talent sourcing and recruitment efforts for Fortune 500 companies such as Gap Inc., Tesla, and Microsoft. She has a wide range of industry experience including finance, marketing, communications, engineering, and technology and has recruited for all levels of organizations, including executive positions.
Amy brings the ability to connect strategy to action while building strong relationships with her clients, leadership, and teams whom she works with. Amy is a trusted advisor and collaborative talent acquisition partner. With her experience, she will leverage strategy, research, and relationship to ignite long-term mutual impact between individuals and the organizations she supports.
In HIS Name HR has been implementing high-performance HR programs for Christian-value-based for-profit companies and organizations, including Christian colleges, ministries, camps and churches, since 2011. In this new role as Human Resources Partner, Amy will support organizations to achieve their goals with her extensive recruitment experience. Additionally, Amy will deliver Biblically based diversity, equity and inclusion training to clients nationally.
"We are excited to have Amy join our team to help take this HR organization to the next level," says Mark A. Griffin, president and founder of In HIS Name HR LLC. "Amy's depth of experience, knowledge and recruitment capabilities complement our growing team of seasoned executives."
More information about Amy Fineman is available at: In HIS Name HR 
PR Newswire Press Release Here 
In HIS Name HR is guided by Christian values and strives to reflect Christ in all areas, starting with the view that everyone should be treated with dignity and respect, and that employees are the most important part of all organizations.
Official Links:
###