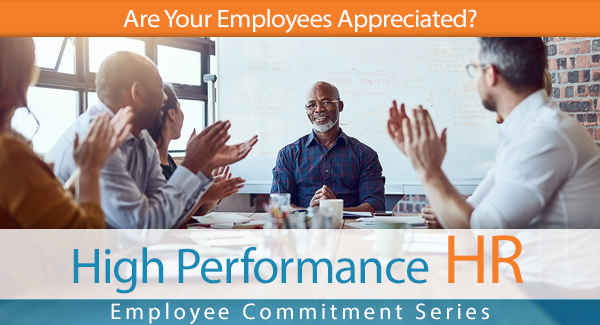 Are Your Employees Appreciated? Employee Commitment Series
---
This blog series focuses on nine areas that keep employees committed to your organization. In our opinion, employees stay committed when they are Involved, Paid Well, Asked for Input, Challenged, Empowered, Trusted, Valued, Appreciated, and Mentored.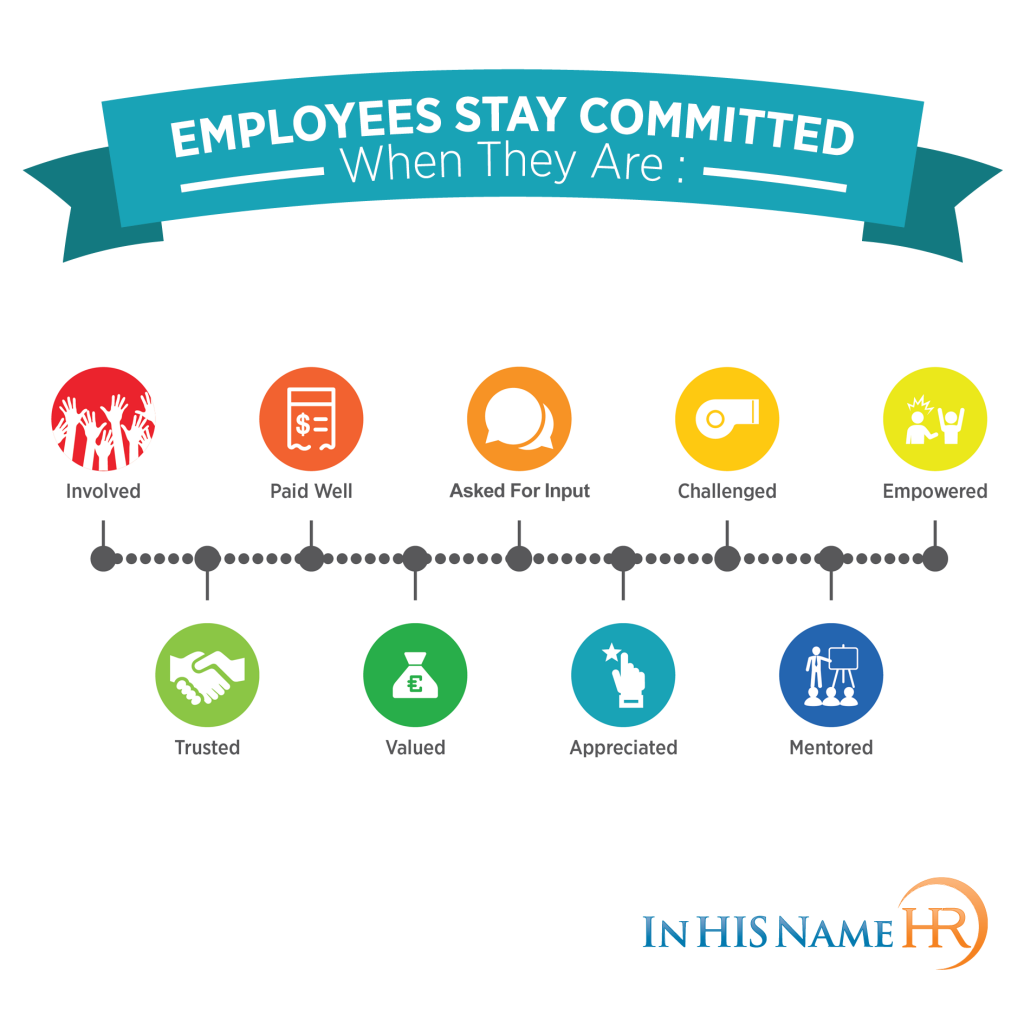 Employees Stay Committed When They Are Appreciated
The best way to create a healthy workplace environment is through communication and appreciation. As leaders of the management team, it's vital you work out strategies to show your employees that you both value their work and appreciate their contributions to the team. With good employee communication and understanding, your organization can achieve high performance.
One initial step to great leadership is realizing that employees don't just desire a paycheck—they need recognition and encouragement. In fact, a recent Harvard Business Review article stated that "people are more likely to jump ship when they have a horrible boss." So, it is just not pay dissatisfaction that makes employees leave; typically it is poor leadership.
It's easy to say "Thank you," or "Good job," and just be done with it, but there are countless meaningful ways to show support and respect for your employees while encouraging better performance.
Many of us being Christian leaders in the workplace, it's also important to ensure we help people to understand their contribution to the greater good. There's never been a better time to demonstrate inspired leadership and show your team members what a difference they make. We need to be a light in a dark world. I recently spoke to an employee at an organization who has never been to church. His only exposure to Christ was through Christians in the workplace. That is a hefty responsibility for us.
One issue that many leaders have, however, is a lack of understanding in terms of how to communicate with employees. Often, we take for granted our employees' performance, which can lead to resentment and not feeling valued in the organization.
The following is a list of several ways that we, as leaders, can take the initiative to show our employees that they're appreciated while keeping them on task:
Install a Rewards System
Employee recognition often holds more value if it's peer-inspired, and putting employees in charge of honoring each other's best efforts can be an ingenious way to inspire confidence.
By allowing employees to tout each other's best efforts and choose their own reward plan, you build a culture of praise and ownership. But remember: The best ideas come from employees. Instead of you dictating what their rewards should be, put together a team to solicit ideas.
Spend Time Connecting
Absent leaders who don't take the time to connect with their employees rarely see the best results. Your employees are hardworking contributors to the success of your business, and spending time connecting with them is vital.
From generating their best ideas to feeling a genuine desire to please you, making connections with your employees goes a long way toward forging a strong mutual relationship that will do wonders for you andthem.
Educate
Whether it's having an instructor in or providing mobile learning, letting your employees engage in learning to develop their already strong skills demonstrates a great deal of faith in their abilities. When an organization, and a leader, invests in employees, it shows an appreciation for the value they have to offer, as well as faith in their expertise.
Nothing is more motivating for an employee than feeling as though their contribution is appreciated enough to nurture.
Get Feedback
Nothing says respect like asking for feedback. And while it can be difficult for employees to feel comfortable telling you what they really think, there are different methods to open the channel of communication.
From an online survey to developing an old-fashioned, Christian, open-communication bond, there are several ways to communicate how important your employee's feedback is, both to you and the future of the organization. After all, nobody grows an organization alone—we require employee feedback.
Implement a system that encourages feedback, such as one that consists of a set of questions regarding their likes and dislikes in the workplace and on the leadership in the organization, and provide open fields to allow for free expression. Consider using a 360-LeadershipAssessment to help develop your leaders.
When employees feel heard and free to contribute, they're far more likely to take ownership.
Reward Their Passions
One of the best ideas for incentives I've ever heard is setting aside time as a way to reward your employees. Giving your team the gift of time off for doing a bang-up job can be incredibly motivating. Encouraging them to take that time and indulge one of their passions is even better.
Whether it's volunteering time at a local charity, ministry, spending time with their children or taking some time to partake in physical exercise, there are lots of nurturing and inspiring ways to reward your employees with time.
As leaders, it's up to us to create the bonds we want to enjoy with our employees and the culture we'd like to implement on the job. Appreciation and healthy communication are vital to this dynamic, and there are many ways we can go about nurturing an inspiring work environment. Have you enjoyed particular success rewarding and motivating employees? Or do you have other inspiring ideas to share? If so, let us know.
____________________
In His Name HR helps organizations build high-performance Human Resources programs. Visit them at In HIS Name HR.
Mark A. Griffin is the founder and chief consultant of In His Name HR LLC. Connect with him on LinkedIn or Twitter.