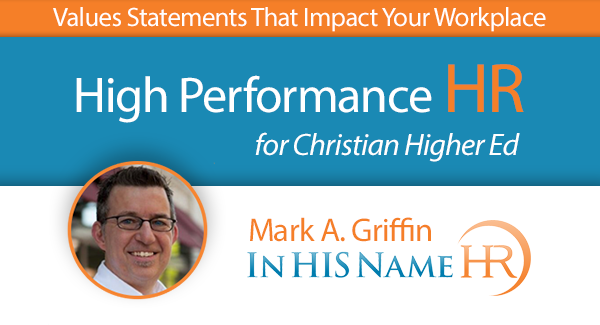 Values Statements That Impact Your Workplace
---
The third ingredient of MVVs is values, specifically core values. A core value, from a human resources perspective, reflects the heart of an organization. It pumps the blood throughout; it makes an organization tick. It defines the organization and its culture and what it takes pride in doing. It is how vendors and customers view an organization's behavior toward them. It is what employees tell their neighbors and friends when asked what it is like to work where they do.  It is why your students choose your college. It is the behaviors your staff and instructors exhibit as they
In the secular world an organization focused on quality might state its core value as: We do not compromise on quality. Quality is job one. An organization valuing individual responsibility would want to say: We believe in holding ourselves accountable. We deliver on our promises and we always endeavor to use good judgment. Efficiency, honesty, customer service, ownership—these and many more reflect the kinds of core values that high-performing organizations embody.
In order to enjoy growth and prosperity and achieve high performance, an organization must first look inward and thoughtfully address these three critical aspects of running an organization. Those that invest in a well-developed and bought-in mission, vision, and values will reap dividends far beyond those that do not.
As leaders at Christian colleges and Universities, we take a Biblical/Kingdom approach to our Mission, Vision and Values creation. Often times it is best to cite a bible verse to stir commitment and affirmation as to why the value is important.
In doing research we discovered Ozark Christian College's Values Statement.  Enjoy reviewing and reflecting how your Values statement might be updated or recast to create excitement on your campus.
CORE VALUES
THE WORD OF CHRIST TAUGHT IN THE SPIRIT OF CHRIST (COLOSSIANS 1:28)​
We believe the Bible is the true and authoritative Word of God and our final rule of faith and practice. We want to teach God's Word faithfully, in harmony with God's Spirit.
NOT TO BE SERVED BUT TO SERVE (MARK 10:45)
We are a servant of the church, training vocational and volunteer servant leaders for the worldwide work of ministry. It is the commitment of teachers, staff and students that we will love and serve others.
SPEAKING THE TRUTH IN LOVE (EPHESIANS 4:15)
We want to honor God by fulfilling our personal responsibility to be honest and caring with one another.
TRUSTING IN THE POWER OF GOD AND SEEKING THE GLORY OF GOD (1 CORINTHIANS 4:20 & ISAIAH 42:8)
We are absolutely and utterly dependent upon God. The work is too great for human resources. We pursue excellence, knowing all glory is God's and any accomplishment is of him.
ATMOSPHERE OF GRACE, TRUST AND FREEDOM (ROMANS 15:7 & 1 PETER 4:10)
We accept one another as imperfect people saved by the grace of God. Mutual trust, based on our commitment to the Lord, guides our relationships. We desire each person to have freedom to develop God-given gifts.
RESTORING BIBLICAL CHRISTIANITY (JOHN 17:21)
We are committed to teaching and practicing biblical Christianity, believing it is central to unity among believers and evangelization of the world.
WORSHIP IN SPIRIT AND TRUTH (JOHN 4:23-24)
We foster spiritual health through genuine worship, both personal and public. Worship is for the glory of God, exhortation from his Word, and edification of the community of faith.
___________
In His Name HR helps organizations build high performance Human Resources programs. Visit them at In HIS Name HR or e-mail them here.
Mark A. Griffin is the founder and chief consultant of In His Name HR LLC. Connect with him on LinkedIn or Twitter.
Trackback from your site.