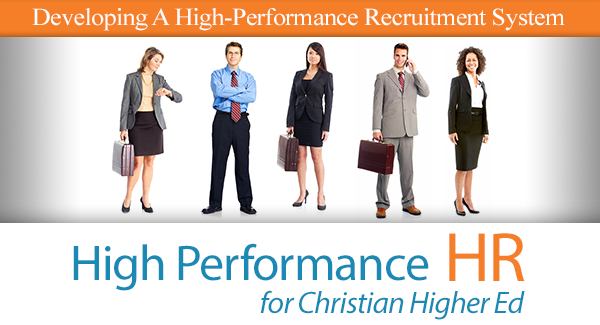 Developing A High-Performance Recruitment System
---
Finding and keeping qualified talent has never been more challenging or expensive. Too many organizations implement haphazard hiring methods that are not only inefficient, but also potentially illegal.
Are people hired systematically at your organization?
The best organizations in the world use sophisticated processes to find and hire new workers. If you don't have a solid system in place to hire workers, consider creating policies, and putting them in writing, that outline your process in detail.
Ready to get started?
Here is a checklist of 4 action steps that you should ensure your HR department is following. By using these steps they will simplify the hiring process for your organization.
Step 1 – Create a candidate pool by…
Constructing a comprehensive job description (with employee input)
Having leadership approve the position and salary range (based on a compensation study)
Posting the position internally first, to allow current employees the opportunity to apply
Encouraging employees to refer friends and family
Creating an advertisement based on the established job description
Running the advertisement
Reviewing ad responses against the requirements outlined in the job description
Sharing your Mission, Vision and Values (MVV) with all candidates
Having the candidates explain how they will support your MVV
Setting up three to four candidates for interviews
Step 2 – Systemize the interview process by…
Selecting interview questions and job criteria correlated to the job description requirements (build MVV questions into process)
Requesting all interviewees first fill out an application
Ensuring all interviewees sign a "consent to background check" form
Having interviewers complete a Candidate Evaluation Form on every candidate after each interview.
Step 3 – Establish the Selection Process by…
Having the team of interviewers meet to discuss candidates (this is typically led by HR personnel)
Conducting candidate interest testing (be careful with tool used)
Selecting the best candidate based on interview results, selection testing, and the hiring manager's decision
Furnishing a verbal offer to the candidate and, if agreed to, creating an offer letter
Sending the offer letter for the candidate to sign, and ensuring it is returned to you.
Step 4 – Start the hiring process by…
Sending the application and consent form to a background check company
Arranging a pre-employment physical and drug & alcohol test for the candidate
Setting a firm start date when the candidate has met all the requirements and is determined "all clear"
If the candidate fails the background or D&A test, the candidate is notified by HR and you return to initial pool of interviewed candidates, choose one, and begin the hiring process again or expand the candidate pool and begin again.
Sending out polite non-selection letters to the other candidates
When you implement a consistent system in your hiring practices, you will increase the efficiency of your organization, saving time and money, and eliminating confusion, both now and in the future.
Also consider the fact that by using the right recruitment approach you are also marketing your organization to potential students?
Any dollars spent in recruitment marketing also benefits your institution from a brand recognition perspective.
___________
In His Name HR helps organizations build high performance Human Resources programs. Visit them at In HIS Name HR or e-mail them here.
Mark A. Griffin is the founder and chief consultant of In His Name HR LLC. Connect with him on LinkedIn or Twitter.
Trackback from your site.