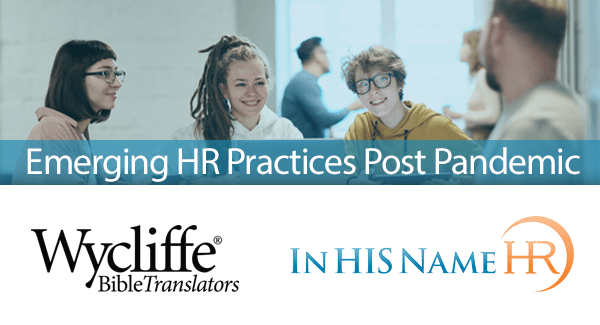 ---
Post-Covid-19, workplaces are now settling into a new reality.
For nearly 80 years, Wycliffe has helped people around the world translate the Bible into their own languages. Wycliffe believes that the Bible is God's Word to us, and something that everyone should be granted the opportunity to understand in a language and format that speaks clearly to their hearts. Nearly 2,000 languages around the world are still awaiting a translation project to start. Once people receive Scripture in their own language, lives often change in amazing ways. People are transformed as they discover Jesus Christ and enter into a right relationship with God. That's why Wycliffe Bible Translators exists: to help speakers of these remaining languages experience the Bible for themselves.
Finding organizations with professionals who are doing an excellent job in this area can be difficult. But with God, divine appointments happen to me often. I had the opportunity to meet with Jennifer Holloran, Chief Operating Officer for Wycliffe Bible Translators. During our discussion it became very apparent that Jennifer's leadership, as it relates to employee development and engagement, would benefit us all if it were shared.
Mark: Jennifer, thank you so much for taking the time to meet with me. I think what strikes me upon reading the culture of Wycliffe is how intentionally you are working to integrate your MVVs into your HR practices. As you know, we have built our firm, In HIS Name HR, on this practice. That's because an organization with a well-crafted MVV always seems to keep its employees focused. Can you tell me how you have ensured your employees remained energized and focused in the face of this chaos we call Covid-19?
Jennifer: Thanks for asking, Mark. In many ways, Wycliffe was particularly blessed in the timing of the start of Covid-19 regarding this issue. We had completed an update to our mission, vision, and core values in March 2020, a process that involved gathering feedback from our global staff and working with our Board to craft wording that would serve us for this next season of ministry. So, as we entered the Covid-19 pandemic, we had already developed these guiding statements before finding ourselves in lockdown.
However, even that good timing would not have been enough to keep people engaged over 2020 and into 2021, especially given the many dividing issues that have come up on top of the pandemic. While we consider all of our guiding statements important, we have given particular attention to our core value of Loving God and Loving Others in response to this difficult time. We put out regular content to our staff through a spiritual formation series we call Deeply Rooted, we talk about this value frequently in our staff meetings, and we bring our staff back to the core of who we are and what we do, regularly.
While we would not say that we have done this perfectly, and the hybrid work environment makes alignment more challenging, we strive to help our staff stay unified and focused on what matters most.
Mark: We know that some of the ways in which we now do our work in our organizations, given the pandemic, have persisted and become normalized. What types of changes do you see to what we might call the "new normal?"
Jennifer: I think we have all realized that the hybrid work model is here to stay. Similarly, for organizations like ours that work in a global space, many questions remain about the future of work travel for face-to-face relationship building and problem solving. We have all found ourselves stretched by finding ways to build and maintain relationships, and to grow and strengthen our community and culture with our staff, in this season. We all have to become better at clearly defining our organizational culture in this kind of environment, because we can no longer rely on some of the methods we have used in the past.
I also believe that we will continue to wrestle with the challenge of staff engagement and staff retention. I recently had the opportunity to attend an HR conference where much of the discussion was about "The Great Resignation," as the impact of the pandemic is causing people to think about how they want to spend their lives. This reality creates both a challenge and an opportunity for us. It means we need to become even more intentional about building trust and instilling purpose in our staff.
For nonprofits and Christian organizations, we have the opportunity to attract and retain staff in this environment because we offer meaningful work that makes an impact on the world. We can do this much more effectively when we have clarity about our mission, vision, and values. When we know who we are, and what we do as an organization, and we can articulate that clearly, it helps people to opt in and stay committed.
There's one other aspect I want to mention here: The last 18 months has taken a real toll on people. Burnout, stress, anxiety, and depression are realities for many people, including ours, as they adapted to a changing work environment and shouldered concern for their families, friends, and churches. We have an opportunity to shine here by showing care for our staff above and beyond what they do for our organization. Let's remember that our staff are more than just their work. If we can get into that habit now, it will serve us well today, and into the future, beyond the pandemic.
Mark: Were you able to establish new work patterns that promote engagement to help employees effectively deal with and overcome feeling isolated?
Jennifer: For many years, Wycliffe has had a combination of staff who have worked remotely from headquarters and staff who have worked completely in-office. So, we had some patterns established before the start of the pandemic to help people stay connected. Instead, what the pandemic has taught us is that we had a lot of work to do in the area of staff experience. We have always had staff who participated in events virtually, served on virtual or hybrid teams, and primarily stayed connected with organizational information through digital means. However, it was humbling and beneficial for those of us accustomed to an in-person experience to discover what it felt like to participate in the organization remotely.
Today, we talk more about how to make sure that any organizational event or activity has the virtual experience in mind. We see the work of connectedness as a two-way street. As leaders, we have a responsibility to make accessible pathways for virtual connection and make those pathways as inviting and inclusive as possible. At the same time, we need our staff's commitment to show up, read the information that's sent out, and participate, so we now talk about that with our staff more.
Mark: How are you building team cohesiveness when many employees work remotely?
Jennifer: One way we work on team cohesiveness is to emphasize the importance of teams with our managers. We see teams as one of our most important avenues for culture building. For us, that includes asking our managers to host weekly times of team prayer and devotions and encouraging our managers to attend and debrief organizational events together with their teams.
Team cohesiveness involves helping teams work effectively together and binding the team together, from top to bottom. We see that as a combination of top-down and bottom-up: cascading communication down through our layers of leadership and encouraging feedback up the supervisory chain to invite thoughts, ideas, and concerns from multiple levels of the organization. Now, I realize that accomplishing this always sounds easier than making it an ongoing reality. Still, we believe it is a goal worth striving toward to help us operate together effectively as a team.
Mark: Did you find it necessary to revamp most of your employment policies due to Covid-19? How were policies and procedures added or changed to reflect current practices?
Jennifer: The policies and procedures we have found most impacted by Covid-19 include those that have to do with workplace safety and flexible work arrangements. Immediately upon the initial lockdown, we instituted many safety practices to help our essential workers come into the office safely. In addition, we have continued to adjust our policies and procedures around workplace and public safety as needed, based on CDC guidelines, local Covid-19 community transmission numbers, and the advice of medical professionals keeping an eye on the latest research findings.
On the flexible work arrangement side, we have found that Covid-19 has served as a catalyst for good conversations about what matters most to us regarding in-person vs. remote participation. For now, we have settled on a 60/40 policy for staff at the headquarters (60% of their FTE in-office and 40% remote). Alongside that policy comes new expectations for managers as they learn to measure productivity and hold people accountable while creating a sense of community in a hybrid setting with their direct reports. We still have much to learn as we see how these policies and practices work in real life.
View this post on Instagram
Mark: How have you been able to develop programs to support leadership in its ability to manage a distributed workforce?
Jennifer: Like many organizations, this area is heavily a work in progress for us as we continue to learn more about effectively managing remotely. We have tried to provide support through technology like Zoom, Slack, Google Workspace, and other connectivity options. Additionally, we have encouraged healthy rhythms in the life of managers with their teams—regular one-on-one check-ins, team meetings, etc.
Our leaders oversee very different kinds of teams—some have entirely in-person teams because of the type of work they do, some have hybrid teams, and others work with globally situated teams that have to manage significant time-zone and connectivity differences along with the everyday challenges of remote teaming. Rather than establish one kind of program to fit those different scenarios, we have worked toward guidelines within which managers have a lot of flexibility to address their unique situations. We want managers to be part of the creative problem solving needed to create workable solutions for the future.
At the same time, we also see the need for a stronger focus on leadership development. We cannot expect leaders to thrive in increasing complexity if we have not helped them build a solid foundation in leading themselves and leading others, and, for senior leaders, leading the organization. So, we give attention to developing a leadership development program that will ensure our leaders have a solid platform of leadership principles on which to stand.
Mark: I meet with many executive leaders who, in private, admit they are really worn down, losing steam. All of the divisiveness and emotions that have permeated the world in the past 18 months are a lot for many of us to take. What one piece of advice would you share that has helped you motivate key leaders as we try to navigate toward what may become our "new normal?"
Jennifer: Mark, I wish more executive leaders would admit this openly! It shows that executive leaders are human too. But, seriously, my advice is: Don't feel alone. I believe most executive leaders are feeling the fatigue of the past 18 months. We have been called to lead during a very challenging season.
Two pieces of advice have been beneficial as I have worked with leaders during this time. First, give yourself grace. Take the steps you need to take to lead from a healthy place, not just for you but also as an example to your organization. That could mean examining your energy level and your priorities and applying what you learn to your calendar.
Second, view the changes that have happened around us as an opportunity for creativity and innovation for the future, rather than as a temporary stopping place before going back to "the time before." We cannot go back to the world as it was before. Instead, we have an opportunity to rethink some of our past norms and practices that have not have served us well—maybe upon reflection, those practices weren't healthy or well-aligned with our mission and values. Instead, we can institute new ways of working that truly reflect who we want to be and how we want to reach our mission and vision.
Mark: We at IHN HR believe that the most successful organizations have their MVV integrated into their HR practices, ensure it is used in recruitment, build it into their annual goal and review process, and also make it a focus within career development. Can you tell us how you are accomplishing this?
Jennifer: I agree with you, Mark. I would take this statement broader, in that our mission, vision, and values must drive our strategic priorities and our supporting operations, with HR serving as a critical player in helping our people encounter our guiding statements repeatedly. Now, I can tell you—we don't do this perfectly today, but we are currently in the process of reviewing all of our HR policies and practices to make sure we have designed them to support where Wycliffe needs to go in the future.
When I say "all HR policies and practices," I would encourage HR practitioners and leaders to think beyond the obvious ones, like recruiting, onboarding, and performance management. We need to look for alignment in the less obvious aspects, too. For example, when we have to help our staff resolve conflict, do our methods reflect and reinforce our values? If we have to conduct a layoff, can we do it in a way that communicates our values in the process and potentially leads the former staff person to stay committed to our mission and vision, even if they no longer have the employment connection?
Mark: Thank you, Jennifer, for taking the time to meet with me today. We will pray for continued blessings over Wycliffe Bible Translators' employees, their families, and all who meet the Lord through their efforts. May the Lord continue to bless you, so you prosper in all you do.
#########
Mark A. Griffin is founder and Chief Consultant at In HIS Name HR LLC. He has over 25 years of HR experience. In His Name HR helps organizations build high-performance human resource programs. Follow him on Facebook, Twitter and LinkedIn.
In His Name HR helps organizations build high-performance human resource programs. E-mail us here.