New Book Provides Christian Inspiration for Business Leaders and Professionals
---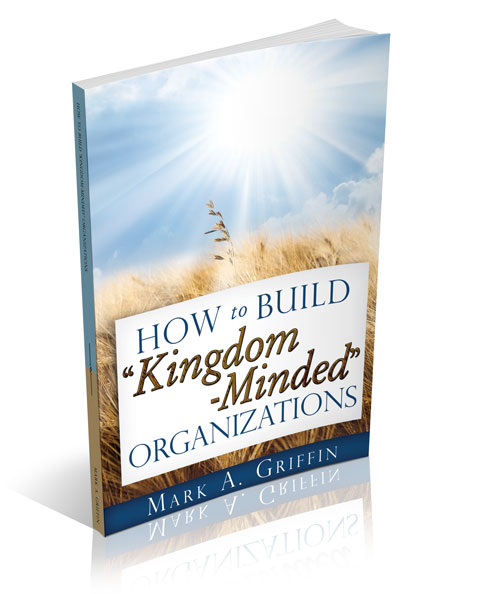 New Book Provides Christian Inspiration for Business Leaders and Professionals
Contact: Mark A. Griffin, In HIS Name HR LLC, 717-572-2183, MGriffin@InHISNameHR.com
LANCASTER, Penn., May 7, 2012 /Christian Newswire/ — HR consultant and career coach Mark A. Griffin has worked for more than 20 years in a corporate world where the bottom line is king and often anything goes in the pursuit of profit.
Mark believes, however, that there is another, better way to do business and in his latest book, How To Build "Kingdom-Minded" Organizations, he provides inspiration for Christian business leaders who want to create a values-led organization that brings Christ into the workplace.
In the last decade, the global corporate world has endured some of the toughest economic times since the Great Depression with business leaders and employees alike enduring increasing pressure s
imply to survive. Too often the workplace has become somewhere devoid of hope and of genuine purpose and yet the workplace is still where many of us spend the majority of our time.
Mark's human resources career over two decades in the marketplace has encompassed both Fortune 500 companies, such as Kodak, Quaker Oats and Merck, and small and mid-sized companies and his knowledge and expertise of the corporate world is unrivaled.
It's his experience of a business world that has lost its way and is out of touch with its responsibilities to both workforce and clientele that has led Mark in a different direction, one informed and inspired by his own strong Christian faith.
Mark's remarkable book will empower business leaders to be bold and brave in bringing their own faith into their workplace. He understands that it takes great courage to step away from the normal business practices that continue to dominate America's corporate world but his book provides simple and effective tools that will integrate the teachings of Christ into an organization.
Through his own organization, In HIS Name HR LLC, Mark is on a mission to provide world-class business consulting that allows clients to be prosperous but also to be "Kingdom-Minded" by instilling a Christian ethos and establishing goals that reflect that ethos.
How To Build "Kingdom-Minded" Organizations provides the starting point for those who want to create, build and develop their own values-led business that is profitable and is also a stable, positive environment in which employee wellbeing is enhanced, thus improving quality and increasing productivity.
Radical, inspirational and affirmative — Mark A. Griffin's template for "Kingdom-Minded" businesses is an idea whose time has come.
How To Build "Kingdom-Minded" Organizations is now available at Amazon.com. Purchase at www.kingdommindedorganizations.com
Learn more about Mark A. Griffin and his quest to help the Christian owned company live their faith by visiting him at www.InHISNameHR.com, or contact him on www.Twitter.com/InHISNameHR.
Trackback from your site.