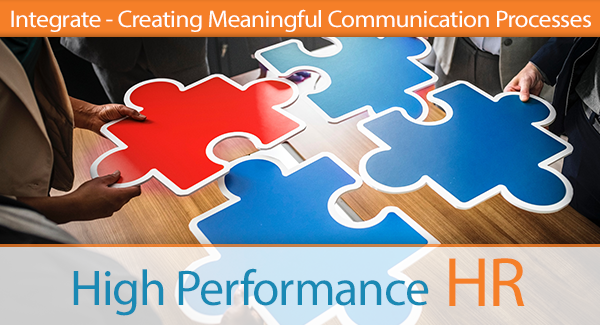 Integrate — Creating Meaningful Communication Processes
---
Integrate — Creating Meaningful Communication Processes
The first question most management teams have after creating a new Mission, Vision and Values statement (MVV) for an organization is: What do we do with it? Integrating into all aspects of your HR processes is paramount to the success of your MVV. The heart of these processes typically lies within the communication processes and employee relations materials of the organization. Since HR typically controls this function, it becomes that much easier for them to communicate the MVV statement effectively.
There are countless avenues to share and ingrain your MVVs within your organization, as well as clients and customers. These can include but are not limited to:
Your organization's newsletter
Your organization's website
Brochures in the front lobby as a takeaway for visitors
Postings in employee break and meeting rooms
Hand copies to applicants during employment interviews
Your organization's marketing materials
The reverse side of your organization's business cards
Inclusion in the packaging of all shipments
If it is important enough for the company to include in the employee handbook, the recruitment process, the performance review process and the employee job descriptions, then it is certainly important enough to include in the above areas as well.
Several years ago, I worked with a company where more than a few of the employees were nervous about sharing the company MVVs with people outside of the organization. Their fear was that the Christian overtones in the MVV statement might offend customers in the Middle East. Others were nervous that prospective employees might be offended or misinterpret our intent.
When the smoke cleared and time went by, employees started to realize that the advantages far outweighed the disadvantages; it did much more good than bad. 
Ultimately, the majority of employees supported it, and, as a result, customers displayed a newfound confidence in us, and our integrity. The customers from the Middle East never complained, and we received more compliments than complaints from applicants. I believe that is how God works. When we stand for Him, unashamed, anything is possible. When we don't, we are subject to a not so nice outcome.
What will you do? I say, be a difference maker, and be bold in your faith. At the end of your life, what will you tell God? I will say, "Father, I hope You can see I was not afraid and tried to be Your good and faithful servant.
How have you chosen to share your MVV with your employees? How about the community and your customers/clients? Let us know by sharing your comments below. Thank you.
Trackback from your site.