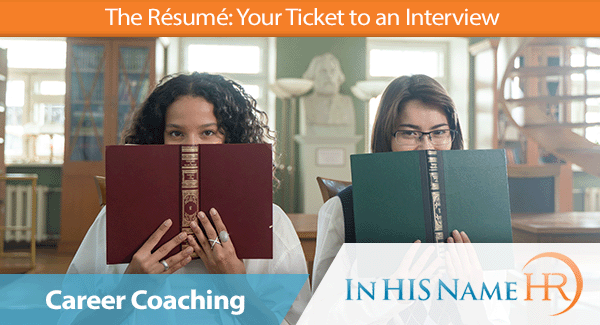 ---
The Résumé: Your Ticket to an Interview
Imagine you have a friend who wants to set you up with their friend on a date. Naturally, before meeting them for coffee, you want to know a bit more about this mystery person.
"What are they like?" you ask your friend.
Your friend begins to describe their personality, hobbies, physical characteristics, and background. To your pleasant surprise, it seems you might have a few things in common. Like you, they love pickleball, sunset walks on the beach, sushi, dogs, old movies, and surfing. Oh, and they have a quirky sense of humor. At this, you are sold.  You picture yourself eating California rolls and watching The Office together, discussing rescue dogs and the best surfing spots.
"I'm game," you tell your friend. "Set me up!"
A resume is much like this – an introduction to someone who is unfamiliar with the employer. The resume is a window into your professional life, a chance for employers to catch a glimpse of your accomplishments and abilities. In short, a resume is a chance for you to sell yourself. It is your presentation to the world, your way of saying, "This is who I am and this is why you should hire me!" To an employers who has never met you, you are merely a name on a piece of paper. A well-written resume is a ticket in the door, a chance at an interview that could lead to an employment offer. This is why it is so crucial to create a flawless resume as you enter the career world.
Understandably, many college students often find resume writing especially challenging. They may feel that their part-time job experience is not relevant to their desired field or that they are inadequate against the competition. But the good news is, a carefully crafted resume is not difficult to compose!
So just where did the idea of a resume come from? The word resume comes from the French language; it means "to summarize the past." Some claim that Leonardo De Vinci should be credited for creating the very first resume. In 1482, De Vinci wrote the Duke of Milan, explaining his qualifications. In his letter, he was able to carefully address the Duke's most pressing needs, which at the time were military advantages and fame. An excerpt from the letter reads:
"Most Illustrious Lord, having now sufficiently considered the specimens of all those who proclaim themselves skilled contrivers of instruments of war, and that the invention and operation of the said instruments are nothing different from those in common use, I shall endeavor, without prejudice to anyone else, to explain myself to your Excellency…"
This might bring a chuckle, as it's hard to imagine addressing any future employer as "Most Illustrious Lord." But De Vinci was not alone in his endeavors. Many others followed suit, penning introduction letters to solidify their credibility.
The notion of a resume continued to morph over time. In the 1940s, resumes sounded more like personal ads, as they included education, qualifications and details that would be considered illegal for hiring a candidate today, such as religion, height, weight, marital status, and age. By the 1950s, resumes were an expected document for employment seekers, and all were typed on a manual typewriter by a woman. In the 1980s, Microsoft Word came along, as did personal computers, changing the working landscape forever. The revolution of the Internet and social media soon followed, allowing people to post resumes online. Today, REZCORE.com, a leading online resume help blog, states that roughly 100 million resumes are sent each year.
According to Dr. John Sullivan, an internationally known thought-leader from the Silicon Valley, most recruiters spend just sixseconds looking at each resume. Yikes! That's just measly seconds to WOW your future employer and make a lasting impression!
So just what makes a great resume? Here are a few dos and don'ts.
To begin, DO be honest. A staggering amount of people falsify information on their resume. In August 2014, Careerbuilder.com reported that 58 percent of employers have caught a lie on a candidate's resume. Most commonly, people embellish their skill set or responsibilities, while dates of employment are often fudged as well. Others don't accurately spill the beans about their job title or academic degree. This is regrettable, unethical, and foolish. In a day where employers can quickly research potential candidates online, false information can quickly be discovered. Honesty is always the best policy!
DO share your volunteer and internship experience. This is especially important for students who may feel they don't have enough professional work experience. Employers know a recent graduate might not have spent much time in their desired field of work, but listing your internship and volunteer experience will go a long way when it comes to impressing people. This shows you are proactive, involved in your community and willing to work hard.
DO include a cover letter whenever possible. Unless a company specifically indicates they do not want a cover letter, it is best to submit one. According to one survey, 86 percent of executives considered cover letters valuable. A cover letter goes above and beyond the resume, telling the employer why you find the job position attractive and why you want to work for that specific company. A great cover letter, according to experts, should be brief (no more than one page) and concise. Use this opportunity to identify yourself, share anything you might have in common with the hiring manager, exhibit your passion and sell your qualifications. Don't be afraid to highlight any soft skills you have, such as willingness to work long hours or eagerness to learn new things. Above all, be human, and be yourself. If a bit of humor feels appropriate, don't shy away from tossing that in too.
DON'T use cliché buzz words if possible. CareerBuilder.com released the results of a survey in which it asked more than 2,000 hiring managers and Human Resource professionals about their biggest resume word pet peeves. Among the words they listed as never wanting to see again? Go-getter, results-driven, team player, hard worker, detail-oriented and strategic thinker. Simply put, these word are overused. Employers prefer punchier words showing action. Get creative and think outside the box!
DO triple check your resume for typos and errors. This should go without saying, but many employers can attest to receiving resumes with multiple errors, including misspelling the company's name or even the candidate's own name! Nothing will make you look unqualified and uneducated like a few typos.
DON'T speak in first person about yourself. Focus on action instead. For example, instead of saying "I built a company from the ground" simply say "Built a company from the ground."
DON'T include a photo. As one expert said, "You are looking for a job, not a date."
DO seek out help. Check with your local college or university. Many educational facilities provide resume services online or in person. A college's Career Center is a great place to start. Many of these services are free and can be useful. Check out sample resumes online. LinkedIn is a great place to start, as most professionals post their resumes on this site.
DO try to limit your resume to one page. Remember that magic "six second" rule? Anything longer than a page could be an immediate turn off to an employer. Stick to the facts and say what you need to say well. If you're unsure of what font to use, sticking to Times New Roman font-size 12 is always a safe bet.
Resume writing can feel daunting, but with the right tools and tricks, a well-written resume can make you stand out from the rest and help land you the job of your dreams!
To learn more about writing a smash-hit resume, order your copy of College to Career today!
So let's get started today!