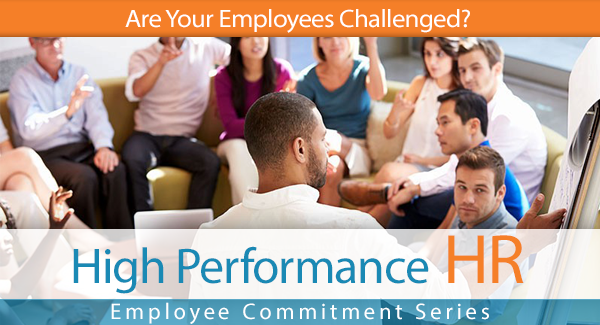 Are Your Employees Challenged? Employee Commitment Series
---
This blog series focuses on nine areas that keep employees committed to your organization. In our opinion, employees stay committed when they are Involved, Paid Well, Asked for Input, Challenged, Empowered, Trusted, Valued, Appreciated, and Mentored.
Are Your Employees Challenged?
Wondering how to best challenge your employees? It's likely easier than you think. One of the first critical steps is to have your employees think through how they might serve the organization by supporting its mission, vision and values. If you want your team to fulfill your organization's mission, reach your vision, and operate within your values, you must build these three critical proclamations into all you do from a human resources perspective.
Employees perform their best when they feel part of the team and are challenged in their job. One of the best ways to challenge your employees is get them to think about your organization's mission, vision and values, and it is the role of your organization's human resource department to see that these three principles are built into all that your organization does.
Mission Statement
When your organization forms its mission statement, consider what makes your organization unique and build your mission statement with that uniqueness in mind. Your organization's mission statement should be worded in broad terms that encompass a principle that employees can get behind, encouraging them to strive to achieve this mission.
Most employees want to give their employers what they think the employer wants, so the broader your mission statement is, the more your employees will challenge themselves to interpret the mission, often going above and beyond the employer's expectations.
For example: the mission statement of Hyatt Hotels is "To provide authentic hospitality by making a difference in the lives of the people we touch every day."
The broadness of this mission statements leaves the interpretation open and encourages employees to strive to "make a difference" in the lives of hotel customers by providing them with excellent customer service within their defined jobs. While employees who greet and register guests of the hotel may see their role as one that includes learning guests' names and greeting them by name, they may also feel their responsibility extends to arranging transportation for guests when needed, suggesting fine dining or kid-friendly dining establishments, or providing directions to nearby scenic places guests might like to visit. Housekeeping staff may see their mission as not only ensuring that guests rooms are cleaned and well stocked but going the extra mile to check back and see if guests need anything additional, like more towels or an extra pillow to ensure a guest's comfort, thus going that extra step to ensure a guest's stay is more comfortable or enjoyable.
The HR department should introduce the organization's mission during the interview process and continue to establish that mission with every interaction with an employee. This creates an environment where each employee may take different steps to accomplish the mission, but those steps can and should lead employees to work as a teamto fulfill the overall mission.
Vision
While the mission statement should be broad, the vision statement should narrow down the mission into something measurable. Some organizations have a single vision statement that can change over time; other organizations may have several sub-visions. For example: One of the sub-visions of Hyatt Hotels is to ensure that every guest has a clean and comfortable room. A clean room is something that can be measured and supports the overall mission of the organization.
Values
Your organization's values spell out, in at least general terms, how you expect your employees to behave toward one another, the organization's managers, and the people the organization serves. Challenging an employee to stick to the organization's values is what creates a time with everyone working toward a common goal.
When the human resources department prioritizes the mission, vision, and values in every interaction with employees, they create an atmosphere where the employees willingly challenge themselves to reach the organization's goals.
______
In HIS Name HR helps organizations build high-performance Human Resources programs. Visit them at In HIS Name HR.
Mark A. Griffin is the founder and chief consultant of In HIS Name HR LLC. Connect with him on LinkedIn or Twitter.