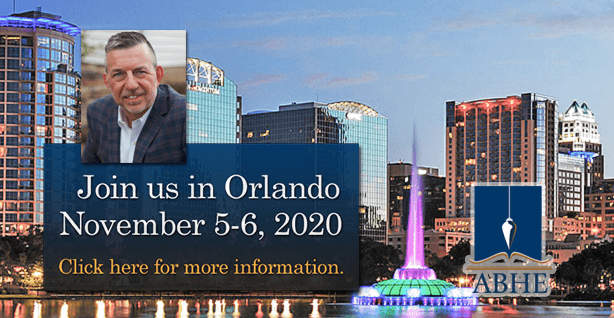 2020 ABHE Financial Officers Conference ~ Orlando, Florida and Virtual
---
Join us in Orlando Florida
The Association for Biblical Higher Education (ABHE)
Financial Officers Conference
On-Site and Virtual Options Available
November 5-6, 2020 
Strong institutions are served by astute financial leaders who both accurately manage the financial operations of the organization and provide keen foresight for the financial planning of institutional leaders. Drill one level down and you are quickly immersed into the complex details of effective budgeting and reporting, financial ratios and key performance indicators, governance compliance, auditing standards, HR policy, risk assessment/ management, and the list continues. Embark on this journey of excellence in financial leadership and take your service to your institution and the cause of Christ to a new level.
Employee Relations & Regulations During Crisis
Presenter: Mark Griffin, CEO – In His Name, HR
Overview: For the HR issues of many ABHE institutions, the buck stops at the CFO's desk. During a crisis, this demands a new level of employee care and understanding. What are the options, implications and regulations for employees? How can an institution best adjust the payroll part of their budget while honoring their staff? Consider:
Reviewing the range for employee relations — termination, furlough, etc. — options
Understanding the impact of communications and process — respect & honor
Knowing the risks and rewards of government payroll assistance — opportunities
Planning well and minimizing surprises — thinking ahead
About The Speaker
Mark is an accomplished HR expert with a fresh perspective. He believes in challenging people to think differently when presented with obstacles in any situation. His passions are inspiring, motivating, and helping others. Peers describe Mark as creative, proactive, determined, and eager to learn. Just a few of Mark's professional skills include organizing, presenting, and problem solving.
Mr. Griffin received his Bachelor of Science degree in Human Resources Administration from Saint Leo University. He earned his MBA from Bloomsburg University while interning for Congressmen Kanjorski as a military liaison during the first Gulf War. Mark has completed several executive education programs at the University of Michigan.
Prior to leading In HIS Name HR, Mark worked for Quaker Oats Company, Kodak Inc., and Merck Inc., and private companies Woolrich, Conestoga Wood Specialties, and Valco Companies Inc.
In addition to helping people professionally, Mark also believes in helping people personally through volunteer work. Mark has coached leaders on "Business as a Mission," traveling to Eastern Europe, India, Haiti, Honduras, Nicaragua, and the Dominican Republic.
Trackback from your site.