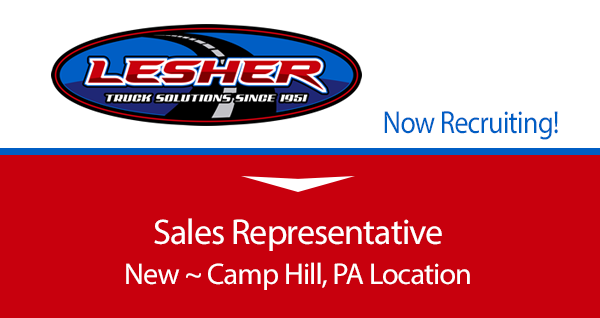 ---
Position Closed 
Join an organization that is growing! Lesher, in business for over 66 years, is now expanding into the Harrisburg West Shore area to better serve its clients as it grows. Lesher is both a full-service Mack and Hino dealer and a full-service truck leasing company.
Lesher management, sales staff, parts and service personnel always go the extra mile to serve their client's transportation needs. Want to join a winning team? Join Lesher today.
Purpose of Position:  
The Medium Duty Sales Representative position generates truck sales by effectively presenting the dealership and the various dealership services in a professional manner to all potential customers within an assigned territory and/or assigned accounts. Fully develop the assigned territory and/or accounts to maximize sales opportunities for the dealership plus Lesher Leasing.
Essential Responsibilities:
Contact and compile prospective customers and assigned accounts within your assigned territory. Maintain file and regularly update key customers information. Provide weekly contact reports to management, including updates and changes in key personnel of existing customer.
Make daily customer and prospect calls. Call frequency should depend on, but not be limited to, potential of the account and the status of any pending business.
Acquire and utilize effective customer relations and sales principles that ensure total customer satisfaction with the products and services of Lesher. Promote business opportunities in all areas: new trucks, used trucks, leasing, rentals, service, and parts sales.
Develop and maintain competent product knowledge.
Complete and submit to management for approval all sales quotation proposals, etc. that fall outside normal limits, prior to submission to customer.
Address customers service issues in the field by managing customer expectations, and coordination with the parts, service, and leasing managers.
Meet or exceed objectives for new/used-truck, and lease deliveries established by the dealership.
Perform various business duties assigned by management.
Adhere to all the established policies and procedures in effect at the distributorship.
Use all reasonable methods of prospecting for new-and used-truck customers on a daily basis, either by telephone, email, or internet.
Follow up with and provide ongoing service to existing customers.
Demonstrate new and used trucks to customers.
Write complete sales orders, secure deposits and process paperwork in accordance with established dealership policies.
Deliver new trucks, explaining new-truck warranty, and service policies.
Attend sales and training meetings which may require overnight travel.
Prepare and turn into the General Manager outside sales call reports weekly. Add information to CRM pertaining to sales calls, what units were quoted, and units available for sale, if applicable.
Communicate to customers that leasing is available if needed.
Required Personal Attributes:
Alignment with Lesher Mission, Vision and Values
Strong Interpersonal Skills – Demonstrated ability to work well, and communicate well, with others
Goal-oriented and results-driven
Dealing with Ambiguity – Ability to make decisions without a lot of direction
Candidate should be team oriented, have a positive attitude, and be self-motivated
Professional personal appearance
Some Position Requirements: 
HS Diploma or GED
5 Years of successful sales / leasing experience, preferably in medium-duty or heavy-duty truck sales.
Must have mechanical aptitude.
Valid Drivers License; but must be willing to obtain Class B driver's license.
Excellent written and verbal communication skills.
Proficient with Internet and Microsoft Office products (Word, Excel, Outlook)
Ability to read, comprehend instructions and information
Working knowledge of the major components of "all makes" for Class 4-8 trucks.
Start building your brighter tomorrow today.
Location Will Be:
Lesher Hino
415 Railroad Ave
Camp Hill, PA  17011
Learn Why Customers Choose Lesher 
Due to the overwhelming response we anticipate we ask that you are patient during the selection and interview process. All qualified applicants will be notified.
Cover letter should include why you should be considered for the position and what would make you the best candidate.
Click to Email: Email HR Team
Lesher is an Equal Opportunity Employer.
Want to get future vacancies and blog updates?  Subscribe here: Click