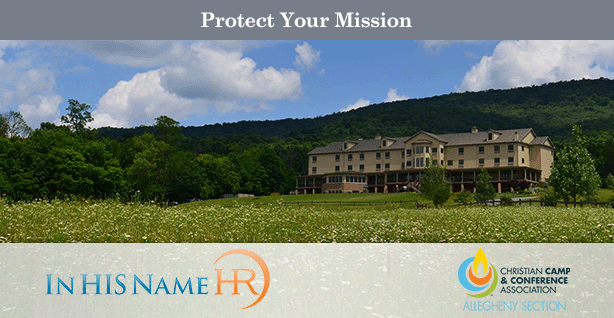 ---
HR practices that can best help your Kingdom-Minded Camp while protecting its mission in today's hostile world.
CCCA Sectional
White Sulphur Springs
4500 Milligans Cove Road
Manns Choice, PA 15550
Monday, February 26, 2024
4:00pm
Presenter Mark Griffin has seen it all in his more than 25 years of Human Resources experience gained by working with a wide range of organizations, from small businesses to Fortune 500 companies to Christian Colleges, Ministries and Churches.
Let Mark help you by sharing his experiences in helping a variety of organizations manage their beliefs in the reality of today's workplace.
Leading your Camp with Christ-centered values makes organizational sense.
Mark will share why he believes Christ-centered organizations experience:
Lower absenteeism
Higher quality products
Fewer employee morale issues
Safer work environments
Better perceptions by customers and vendors
Mark will also share how he helps organizations develop HR practices that reflect their core values and still build a high performance organization.
Topics to be Covered
DEI and Biblical alternatives why is this important?
Protecting your religious liberty
Dangers from proposed laws
Current state of religious liberty in court
Creating a high performance culture through practical HR competency development
Where most organizations go wrong engaging employees
Setting expectations
HR tools for creating success
Employee policy manuals
Codes of Conduct
Employee relations and communications
Performance management
Counseling and discipline procedures
Terminations
How the Civil Rights Act administrative guidance affects your Camp
Mark is a human resources professional with 25-plus years of experience in both public (Quaker Oats Company, Kodak Inc., Merck Inc.) and private companies (Woolrich, Conestoga Wood Specialties, Valco Companies Inc.), Mark is passionate about building high-performance workplaces by utilizing best practices while leading organizations with strong values.
About The Presenter

Mark A. Griffin, MBA
President and Founder In HIS Name HR LLC
Speaker, accomplished HR consultant, and the author of How to Build "Kingdom-Minded" Organizations and College to Career: The Student Guide to Career and Life Navigation, Mark A. Griffin encourages leaders to build values-led organizations during these increasingly complex times.  Mark and his wife live in Lancaster PA and have two adult children.
Presented and hosted by the Christian Camp and Conference Association Allegheny Region. For ticket information visit them here.