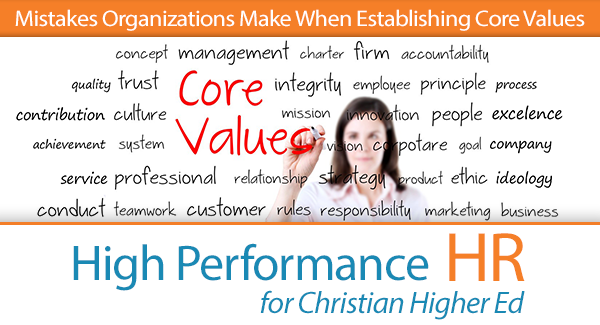 Mistakes Organizations Make When Establishing Core Values
---
Today, we build on the two previous posts, on creating Mission and Vision Statements by discussing Core Values and creating your organization's Value Statement, which completes the triad.
When organizations desire to perform at the highest level, they leverage three (3) commitments—three commitments that set the stage for overall efficiency, growth, and prosperity.
Core Values focus on how you run your organization and interact with customers and suppliers. Not everyone possesses the same core values, so it's important for an organization to stress what theirs are to employees, vendors, and customers at the onset of hiring, doing business, or providing a service.
Take this example: Facebook started out in a dorm room and, in just ten years, grew to having 1.23 billion monthly users, about one-sixth of the entire world's population. To celebrate that accomplishment, Mark Zuckerberg expressed how a Core Value guided them along the way:
"…We just cared more about connecting the world than anyone else. And we still do today."
With its expressed Value of caring, Facebook is guided toward their vision and mission of accomplishing bigger and more important goals. It is yet to be seen whether Facebook will be foiled by one of the 5 very common mistakes we are about to explore here.
Mistake # 1: Being too vague
Your Core Values should be both meaningful and easy to understand. So, if caring is a core value, what does "caring" really mean? Your Value statement should flesh this out in a simple and powerful way. Zuckerberg outlined his 5 Core Values as "The Hacker Way."
 Mistake # 2: Lack of accountability
Your Core Values must be built into your performance management process or the oversight to ensure success will be sorely absent.
Mistake # 3: Creating too many Values
By limiting this list to reflect only your highest priorities, your core Values will be focused and accountability will increase.
It's tempting to make a long list of Values that you think are important; however, when you keep the number to about three or four key items, you make enacting them easier and more likely.
Mistake # 4: Failing to share core Values with prospective employees
Potential employees should know how things work and what it's like at your organization from the start. When someone does not subscribe to your Values, don't hire them.
Mistake # 5: Not including a core Values preface statement
Some core Values can end up seeming disingenuous or hypocritical once mistakes are made. The best way to inoculate your organization from this is to disclose that possibility up front.
Include a preface statement like this:
"Although we strive for perfection, we sometimes miss the mark. When we do, we apologize and work to improve as we move forward. The following is a list of the values we strive to maintain."
Your students, instructors, vendors, customers, and employees will appreciate your honesty and be more likely to give you the benefit of the doubt, should problems arise.
Core Value Statements are crucial to the culture of your organization and shouldn't be taken lightly. The best way to ensure that your trio of Mission, Vision, and Value Statements will succeed is to ensure they are integrated into all you do from an HR perspective.
By avoiding the common mistakes and using top-notch methods, you'll ensure that employees can achieve your Mission and Vision by adhering to the core Values most important to your organization. A high-performing organization is one that can last and even thrive in tough economic times. It must by guided carefully using processes that ensure consistency and stability through the Values you hold most dear.
___________
In His Name HR helps organizations build high performance Human Resources programs. Visit them at In HIS Name HR or e-mail them here.
Mark A. Griffin is the founder and chief consultant of In His Name HR LLC. Connect with him on LinkedIn or Twitter.
Trackback from your site.