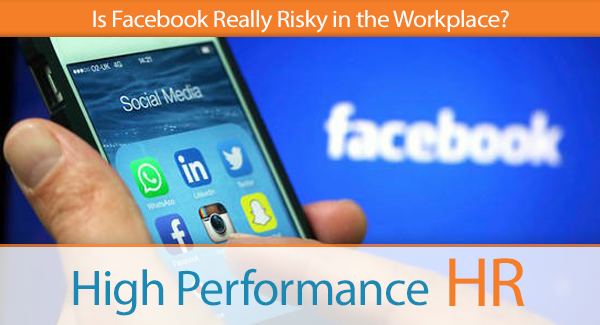 Is Facebook Really Risky in the Workplace?
---
Learn how to make social media use in the workplace a win for everybody.
What is your organization's policy on social media? It's time to better understand this powerful tool and make it work for you.
Research from Fierce, a Seattle-based training and development company, concludes that 80 percent of workers log onto Facebook during working hours.
Facebook is not going away. LinkedIn is right behind, and if you don't know what Instagram or Snapchat is, well, you're just missing out. Having worked in an era before these tools existed and then became popular, I offer you some vital insights from a Human Resources perspective.
Transforming connections and communications
In an age of smartphones, websites, and computers with preloaded social media integration, social media technology is standard fare in most environments. Customers routinely "check in" and post photos from restaurants, shops, attractions, and events. Pastors tell attendees to tweet quotes from their sermons. Celebrities make big announcements on Twitter, and the most important world news breaks on social media first. It's not going anywhere. In fact, it's growing, integrating, and upgrading faster than ever.
Despite this prominence, only 51 percent of organizations have any policy on social media. Some organizational leaders feel participation hurts productivity or even contributes to interpersonal problems (think of publicly bad-mouthing leadership), yet many more believe its use is crucial to good morale and a happy working environment, and current research bears this out.
Today, a whole new generation of workers considers social media a nonnegotiable aspect of their job environment. In a recent study by Fast Company, 40 percent of college students and 45 percent of young professionals said they would turn down a job or accept less pay rather than work for a company that disallowed social media use.
Be clever in how you integrate social media usage into your  organizational culture and policies. If you have bans on social media, review and amend them to fit the times. If you don't have a policy yet, remember these key points before issuing sweeping prohibitions on the technology:
When treated as adults, most employees behave as adults.
Give great guidelines up front—don't wait for a crisis. Regularly encourage responsible posting on social media.
Assign someone who understands social media to create a vision of how your company can be positively perceived or promoted online, and then articulate that vision clearly.
Risk vs. Reward
Without guidance, employee involvement with social media can be risky, but social media remains an excellent tool to engage participants and current or future customers and get your message out. The right use of this powerful tool can benefit everyone involved.
Many opportunities exist to mobilize your workforce to connect with others and broadcast a healthy and positive image of your company or non-profit. Some of the most productive and profitable companies have integrated it well, and so can you.
What type of policies do you have in place on social media?
##
Mark Griffin is founder and Chief Consultant at In His Name HR LLC. He has over 20 years of HR experience.  Follow Mark on Facebook, Twitter and LinkedIn.