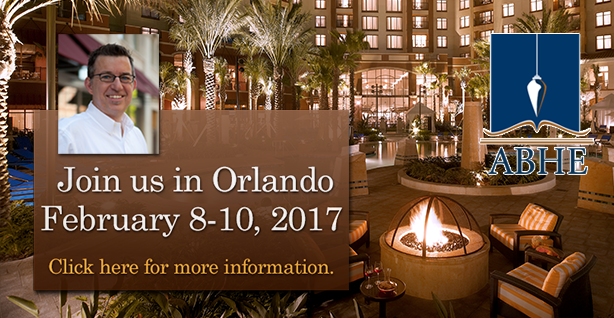 Developing A High-Performance Employee Review Process
---
ABHE Annual Meeting
February 8-10, 2017 | The Wyndham Orlando Resort
Many organizations attempt to implement employee review processes and inadvertently cause more harm than good. Many processes come across as punitive, time consuming, and non-value added.
What if you had a process that excited employees, one that they would lead? I'm talking about a process with a career development component that fills them with pride, with a sense of "hope and a future" with your organization?
In this session, learn how to keep employees motivated and engaged with a performance review process that is effective and, yes, even enjoyable, one that your employees will embrace and enjoy instead of dread.
In Developing a High-Performance Employee Review Process, participants learn how to:
Develop an employee-led process
Provide specific, realistic, and tactful feedback
Differentiate between standards and goals and the importance of both to improve employee performance
Avoid those common performance review errors that reduce effectiveness for the employee, the manager, and the organization
Develop a process that is comfortable for both manager and employee—one that achieves higher levels of performance
Visit us- Booth 213 – ABHE Annual Meeting!
About the Speaker
Mark A. Griffin is the founder and chief consultant of In HIS Name HR LLC, a human resources outsourcing and career coaching firm created to help organizations pilot the complex issues of managing HR.
As a human resources professional with 20-plus years of experience in both public (Quaker Oats Company, Kodak Inc., Merck Inc.) and private companies (Woolrich, Conestoga Wood Specialties, Valco Companies Inc.), Mark is passionate about building high-performance workplaces by utilizing best practices while leading organizations with strong values.
Mark and his wife Gail have two adult children, and celebrated their 30th wedding anniversary June 2016. They attend LCBC Church. Mark has coached leaders on "Business as Mission" as far away as Eastern Europe, India, Haiti, Honduras and the Dominican Republic.
Speaker, accomplished HR consultant, and the author of How to Build "Kingdom-Minded" Organizations and College to Career: The Student Guide to Career and Life Navigation, Mark A. Griffin encourages leaders to build values-led organizations during these difficult economic times.
Trackback from your site.