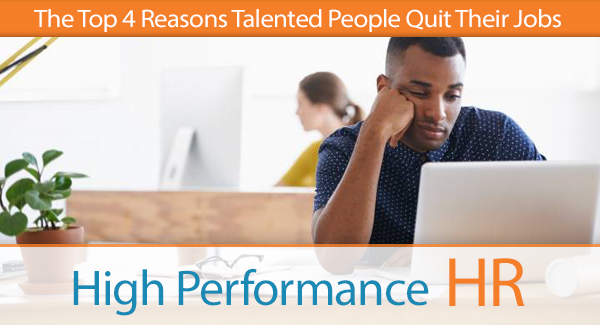 The Top 4 Reasons Talented People Quit Their Jobs, +1
---
Over my 25 plus-year career in human resources, I've noticed that while people will endure fewer amenities and less pay, there are four reasons skillful workers will leave for another job.
(1) No opportunity – When employees sense no potential for career progress, or leaders are unaware that advancement is important, employees look elsewhere for better options.
(2) Not knowing the dollar value of their benefits – Pay and benefits is a topic often avoided in many workplaces. Many organizations, however, offer competitive pay and often benefits that cost thousands of dollars, and employees haven't a clue. (Think PTO, like legal holidays, sick days, and vacation days; life insurance, long-term disability (LTD), and short-term disability (STD) programs; health insurance, including vision and dental; and wellness programs.) The costs of all these programs add up. When organizations take the time to periodically make employees aware of the total cost of all the benefits at their disposal, employees gain a greater appreciation how much value they receive in their job.
(3) Feeling unappreciated – When employees receive little or no gratitude or acknowledgment for their contributions, it feels demoralizing — no wonder they seek more rewarding work elsewhere. The biggest surprise? Many times, during exit interviews, departing employees disclose that a simple, verbal "thank you" would have made all the difference. However, in many organizations, too often managers fail to do even that.
(4) Sheer Boredom – Without savvy leaders or a solid idea of the big picture, employees don't see concrete, interesting ways to contribute, outside of the ordinary scope of their jobs. Things grow tedious and employees hunt for new challenges to make work feel more meaningful.
So, while you might think your employees only want higher pay and a corner office, or that the trend among employees is to feel "entitled," the truth is that the best employees are satisfied with simpler, more basic and fundamental management approaches—and a better explanation of the benefits they currently have.
Be thoughtful — find out what motivates your employees! This simple investment will ensure improved worker retention, enhanced overall morale, and increased company loyalty. And isn't that what you really want?
Action Steps
What can you do as an employer right now to keep your best employees? Consider asking them. That's right. Simply spending time with employees in focus groups and roundtable discussions can help you to help them by making basic changes to ensure you keep your greatest asset happy and encouraged.
One more thing…What's the Top Reason People Quit?
This 2017 Inc. magazine article reveals that the primary reason employees quit is:
People leave managers, not companies.
Marcel Schwantes, while researching the topic of turnover, found that 50% of employees left their job "to get away from their manager to improve their overall life at some point in their career."
Keep in mind that as a new generation of workers comes of age, the issue of turnover will continue to grow. Many employees now look at their lives differently than workers did 20 and 30 years ago. Most value relationships above all else, and when a manager starts stealing their joy, they won't hesitate to look for work elsewhere.
The workplace ladder is simply not as important to young workers today as in prior generations. Many are talented and capable, but will invariably choose a desirable manager over monetary or organizational rewards.
If you are concerned about retaining talented employees while also saving time and money in hiring and training costs, remember these top 4 reasons and the new trend that makes talented people quit. It could make keeping the great people you need a lot easier than you thought.
##
Mark Griffin is founder and President at In His Name HR LLC. He has over 25 years of HR experience. Follow Mark on Facebook, Twitter and LinkedIn.