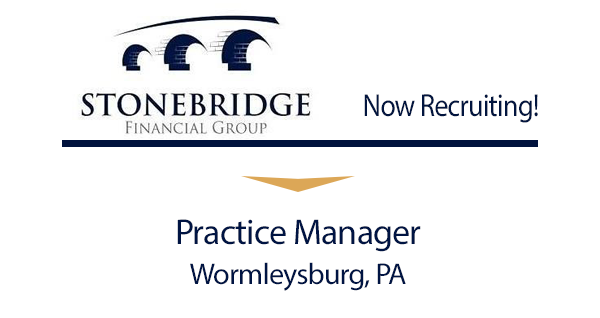 ---
Position Closed 
We are excited to be retained by this wonderful organization, Stonebridge Financial Group to assist in recruiting a Practice Manager for their Wormleysburg, Pennsylvania (Harrisburg, West Shore) corporate office.
Stonebridge Financial Group is a growing financial advisory practice.  They currently are seeking a  Practice Manager capable of assisting the management team with operational efficiencies to take advantage of industry trends and changes providing opportunities for exceptional growth.  The Stonebridge Financial Group Team needs assistance taking advantage of unprecedented demographics trends in advisory industry and the clients they serve.
Purpose Of The Position:
The Practice Manager plays a critical role in the front and back-office functioning of the firm. With overall responsibility for day-to-day operations, the Practice Manager must be able to work effectively with other staff members, clients, vendors and advisors. The Practice Manager helps the office run smoothly and helps ensure that all client services are handled in a timely, accurate, and professional manner either directly or through delegation to and monitoring of other team members.
Responsibilities:
Responsibilities are diverse, but compliance and supervision of the team's advisors and adherence to regulatory requirements is the central role of this position.  Furthermore, incumbents shall be familiar with traditional human resources and financial roles including:
1) Payroll and benefits
2) Financial Bookkeeping
3) Vendor Relationships
4) Hiring and personnel management
5) Integration of new financial advisors or practices
Additionally, the incumbent is responsible for developing operational efficiencies through the creation of policies and procedures designed to:
1) Train new employees
2) Integrate new practices when acquisitions occur
3) Expand the practice regionally by opening up multiple offices
Some Requirements Include:
Series 7 and 65 licenses is required.
Incumbents must have series 10 and/or 24 license, if the employee does not have the series 10
and/or 24 license, they must obtain it within 6 months of employment.
A Bachelor's degree with at least 5 years related experience in a financial services environment.
Proven leadership skills to effectively direct employees while in a professional environment, ability to properly evaluate comprehension, and application of subject material.
Position requires to be at the office daily.
Must have a valid driver's license.
Will be required to travel between any future regional offices located in South Central PA.
Knowledge of Windows, Power Point, Word, Excel, QuickBooks, and Outlook, or similar programs required.
Complete support of and willing to adherence to Stonebridge Financial Group's Standard of Conduct. Applicant must hold these standards as his/her own.
Required Personal Attributes:
Conscientiousness
Takes ownership for resolving problems rather than allowing them to persist or simply pointing them out to others.
Displays positive "Can Do" attitude.
Flexibility
Is receptive to new information, ideas, or strategies to achieve organization's goals.
Stonebridge Financial Group is an organization that experiences constant change.
This position must be able to react positively to these developments and help lead the way forward to include new developments in practice management targeted to both internal and external stakeholders.
Integrity/Honesty
Avoids any action, or situation that would give the appearance of unethical, or inappropriate behavior.
Demonstrates the courage to do the right thing in difficult situations.
Holds self and others accountable for meeting high standards of the organization's
integrity.
Stonebridge Financial Group employees always go the extra mile to serve their client's financial needs. Want to join a winning team? Join the Stonebridge Financial Group today.
Location Will Be:
Stonebridge Financial Group
602 N Front Street
Wormleysburg, PA 17043
Due to the overwhelming response we anticipate we ask that you are patient during the selection and interview process. All qualified applicants will be notified.
All qualified individuals may submit a resume and cover letter which includes why you should be considered for the position and what would make you the best candidate to:
Email HR@InHISNameHR.com
Stonebridge Financial Group is an Equal Opportunity Employer.
Want to get future vacancies and blog updates?  Subscribe here: Click