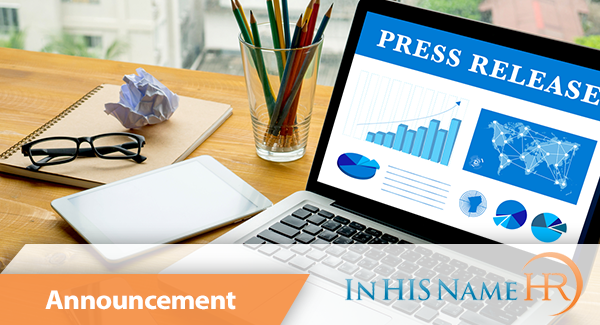 ---
February 28, 2014 Via  PR Newswire 
Times are tough: today's tumultuous economic climate is seeing small businesses and non-profit organizations struggle to survive. Human resource-related matters are proving to be the biggest challenges faced – it's a little known fact that these can be easily solved without high overheads.
High employee turnover, expensive recruiting and hiring processes, and workplace inefficiency are common problems that make growth and prosperity difficult to achieve.
Founder and President of In HIS Name HR Mark Griffin says the key to overcoming these hurdles is knowledgeable leadership.
"Adopting the practices, programs, and techniques of some of the world's biggest and most successful organizations will transform your company into a lean and efficient powerhouse," Mr. Griffin says. "All this can be done in-house, potentially saving you thousands of dollars."
Mr. Griffin explains that HR issues can cause irreparable damage, and it is imperative for the success of any business to address these problems in an effective way. The Human Resources Mastery Toolkit offers in-depth, step-by-step training that equips the user with the resources and tools to expertly correct operational problems and boost organizational performance.
A far cry from an HR how-to booklet, the Human Resources Mastery Toolkit is currently available, for a limited time only, with a free iPad Air with Wi-Fi and a 16GB memory, valued at US$525.
The Human Resources Mastery Toolkit provides the user with five detailed training programs, plus companion materials that cover these areas pertaining to boosting organizational performance:
mission, vision and value commitments
workplace efficiency
performance review process
high-performance recruitment
employee relations
Ready-made meeting outlines, agendas, and expertly crafted templates accompany each program and are easy to incorporate into the daily running of organizations.
Securing sustained growth and a better work environment is within easy reach. Visit www.hrmastery.com for the key to a more prosperous future.
For further information, please contact:
Mark A. Griffin
717-572-2183
MGriffin@InHISNameHR.com
ABOUT In HIS Name HR
Founded by HR expert, Mark Griffin, in 2011, In HIS Name HR is strongly guided by Christian values and strives to reflect Christ in all areas, starting with the view that everyone should be treated with dignity and respect, and that employees are the most important part of all organizations.
In HIS Name HR provides progressive HR programs to increase productivity and profitability, eliminate non-value-added practices, and enhance employee wellbeing. The company provides around-the-clock support, and representation in all HR situations.