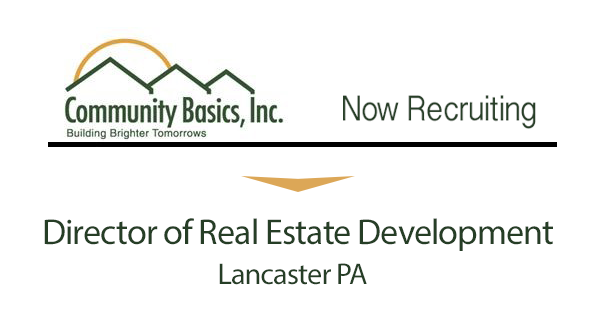 ---
Position Closed 
Director of Real Estate Development
In an economy that is yielding very little career opportunities, we are excited to be retained by this wonderful organization, Community Basics, Inc. to assist in recruiting a Director of Real Estate Development for their Lancaster, PA location.
Community Basics, Inc. (CBI) addresses the ongoing need for affordable housing by partnering with federal, state and local organizations to build and manage rental communities for moderate-income families and individuals throughout Lancaster County and surrounding areas.
Start building your brighter tomorrow today.
Some Essential Duties:
Assisting the team in locating potential new projects and develops strategies to obtain financing for such projects, including preparation of funding applications.
Responsible for coordinating architects, general contractors, planning consultants market analysts, environmental consultants and other third party contractors.
Coordinating development team members during pre-development of projects.
Responsible for coordinating methods for obtaining local municipality planning approvals, including communication with specific community groups, government officials and neighborhood residents.
Responsible for attending job meetings and advise on construction issues concerning projects in the building stage.
Assisting in the preparation of funding presentations to governmental officials, lending and other funding institutions.
Some Position Requirements:
Bachelor's Degree with experience construction and development.
Minimum of 2 years experience with building design, land planning and/or government processes preferred.
Computer experience is required (including Microsoft office suite).
It is critical that employees support the attainment of our organization's Mission, as well as align their performance, goal setting, and focus on realizing our organization's Vision.
Some Required Personal Attributes:
Self-Starter.
Detail Oriented.
Professional attitude.
Excellent problem solving skills.
Ability to perform multiple tasks.
Excellent communication skills, both verbal and written.
Ability to learn quickly in a complex environment.
Self-confidence.
Strong people skills.
Must be able to culturally adapt to the customers.
Just like all Community Basics employees, the conduct of this employee must be consistent with good character, and must be an appropriate reflective of our organization's heritage. Complete support of and willing adherence to Community Basics mission and vision. Applicant must hold these standards as his/her own.
Location Will Be:
Community Basics Inc.
941 Wheatland Ave
#204 Lancaster, PA 17603
Due to the overwhelming response we anticipate we ask that you are patient during the selection and interview process. All qualified applicants will be notified.
Cover letter should include why you should be considered for the position and what would make you the best candidate.
All qualified individuals may submit a resume and letter of interest to:
Email HR@InHISNameHR.com
Community Basics Inc. is an Equal Opportunity Employer.
Want to get future vacancies and blog updates?  Subscribe here: Click