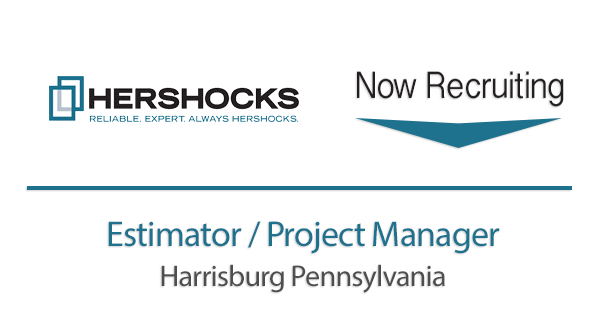 ---
Position Closed 
Hershocks Inc. is committed to understanding, meeting and exceeding their customer's expectations. Established in 1935 and a leading commercial glass and aluminum contractor has an opening for an individual in its Service and Small Contract Division. This person would be estimating, bidding, and then project managing commercial window, door, and storefront installations.
Some Responsibilities:
Visit project locations to assess customer needs
Prepare accurate bid based on job scope, specs, and drawings
Present quote to customer
Maintain detailed records of each project estimated
Order material and project manage each job awarded
Develop relationships with existing and new customers
Work together with rest of department management team
Some Requirements:
Minimum of High School education
Five years of experience in the commercial glass and glazing industry
Ability to read and extract information from architectural drawings
CAD experience a plus
Higher education in Construction Management a plus
Must have excellent communication skills and be a team player
Required Personal Attributes
Just like all Hershocks employees, the conduct of this employee must be consistent with good character, must be an appropriate reflective of our company's heritage.  Complete support of and willing adherence to Hershocks's mission and vision. Applicant must hold these standards as his/her own.
Benefits:
Health Insurance
401K Plan
Profit Sharing Plan
Paid Vacation / Holidays
Location Will Be:
Hershocks Commercial Glass and Glazing
3501 N. 6th Street
Harrisburg, PA 17011
Hershocks, Inc. is an equal opportunity employer
All qualified individuals may submit a resume and letter of interest to: