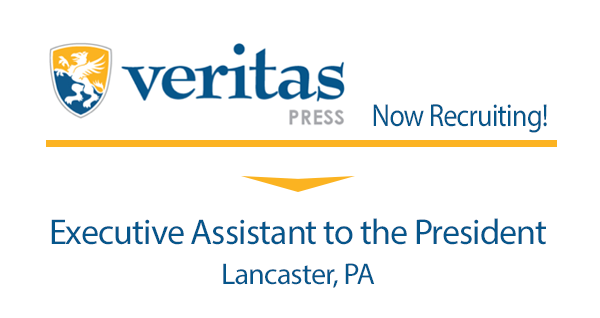 ---
Position Closed 
We are excited to be retained by this wonderful organization, Veritas Press to assist in recruiting a Executive Assistant to the President for their Lancaster Pennsylvania corporate office.
Veritas Press is a Christian organization dedicated to providing the best classical Christian education materials and services anywhere.
Learn about the great benefits of working for Veritas here! 
The Executive Assistant to the President will assist the President and Executive VP along with executive team as needed.
Some Responsibilities Include:
Personal Assistant:
Serve as a personal assistant to the president and executive vice president to conserve their time and promote the corporate image by representing them internally and externally; providing liaison between the president, key executives, and employees.
Represent the president by welcoming visitors, reviewing correspondence; arranging company dinners and other corporate functions; answering questions and meeting requests directed to the president.
Help key executives make consistent decisions by advising them of historical precedents; serving as liaison between them and the president.
Arrange corporate and personal travel and meetings by developing itineraries and agendas; scheduling transportation; arranging lodging and meeting accommodations.
Administrative:
Scan and Forward any invoices received via mail and all packing slips to the Financial Assistant.
Scan and deposit all checks received.
Assist in sending emails to large groups utilizing current software.
Reception:
Receive all guests to Veritas Press.
Maintain Visitor Log as directed.
Office Maintenance and Supplies:
Order supplies as needed.
Maintain organization of curriculum library.
Maintain break room and supply room tidiness.
Facilitate office cleaning with 3rd party vendor.
Opens, sorts and delivers all corporate mail.
Projects:
Utilizes project management software as directed.
Assists with data entry within project management software.
Coordinates and helps facilitate projects within project management software as directed by project lead.
Human Resources:
Assists new employee onboarding as directed.
Compiles new employee paperwork packet.
Maintains employee files.
Assists Director of Operations with administration of benefits.
Some Requirements Include:
A bachelor's degree is preferred, but not required.
Conversant with and supportive of the reformed faith and classical Christian education according to the VPSA Statement of Faith and Philosophy.
Excellent written and oral communication skills.
Moderate mathematical skills and the ability to apply them to practical situations
Able to work diligently without direct supervision.
Proficient in handling detailed work.
Wiling to continually learn various types of software.
Experience with typical MS Office Suite products, Gmail, general computer skills, etc.
Work to constantly expand abilities by gaining further training in areas of weakness.
General account/bookkeeping experience is helpful.
Veritas employees always go the extra mile to serve their client's educational needs. Want to join a winning team? Join Veritas today.
Location Will Be:
Veritas Press
1805 Olde Homestead Lane
Lancaster, PA 17601
Due to the overwhelming response we anticipate we ask that you are patient during the selection and interview process. All qualified applicants will be notified.
All qualified individuals may submit a resume and cover letter which includes why you should be considered for the position and what would make you the best candidate to:
Email HR@InHISNameHR.com
Veritas Press is an Equal Opportunity Employer.
Want to get future vacancies and blog updates?  Subscribe here: Click