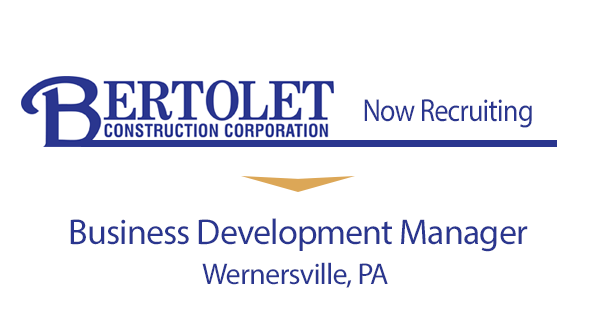 ---
Position Closed 
Business Development Manager
In an economy that is yielding very little career opportunities, we are excited to be retained by this wonderful organization, Bertolet Construction Corporation to assist in recruiting a Business Development Manager for their Wernersville, PA  location.
Bertolet Construction Corporation provides industrial and commercial building and renovation general contracting services throughout Berks and the surrounding PA counties.
Start building your brighter tomorrow today.
Some Essential Duties:
Responsible for substantially expanding new business and growing existing business within the commercial & industrial construction industry.
Assist the leadership team in coaching, coordination, mentoring and developing best in class service for our clients.
Responsible for having the knowledge and the proven ability to execute business to business sales process.
Responsible for traveling throughout the territory to call on existing and prospective clients to solicit projects.
Responsible for identifying the client's future and additional needs and increasing the client's overall satisfaction with our services.
Coordinate and present presentations to clients and prospects as required.
Oversee and coordinate the proposal process from proposal development thru project acquisition, ensuring professionalism and consistency in format and design with selected guidelines with estimating team.
Engage and strategize with leadership team to drive revenue.
Responsible for assisting in the development of an annual budget and reaching the revenue goals.
Some Position Requirements:
Complete support of and willing adherence to Bertolet's mission, vision and core values. Applicant must hold these standards as his/her own.
Bachelor's degree in Business, Construction Management, or related field.
A minimum of five (5) years of Business Development experience in the commercial and industrial construction industry.
Must have previous knowledge and experience with building construction business within a 50-mile radius.
Must have demonstrated network of COI's (Centers of Influence) to include owners, architects, engineers, and other professional services relationships that can be leveraged to create business opportunities.
Must have demonstrated track record of structuring and managing complex negotiations to successfully close sales.
Some Required Personal Attributes:
Excellent communication skills, including verbal and written.
Strong writing and editing skills with attention to detail.
Ability to be proactive.
Ability to speak and present to groups of various levels of management.
Self-motivated, able to work independently.
Positive attitude.
Excellent problem solving skills.
Reliable.
Excellent relationship building skills.
Just like all Bertolet Construction Corporation employees, the conduct of this employee must be consistent with good character, and must be an appropriate reflection of our organization's heritage. Complete support of and willing adherence to Bertolet Construction Corporation code of conduct. Applicant must hold these standards as his/her own.
Location Will Be:
Bertolet Construction Corporation
100 South Church Road
Wernersville, PA 19565
Learn Why Customers Choose Bertolet Construction Corporation 
Due to the overwhelming response we anticipate we ask that you are patient during the selection and interview process. All qualified applicants will be notified.
Cover letter should include why you should be considered for the position and what would make you the best candidate.
All qualified individuals may submit a resume and cover letter which includes why you should be considered for the position and what would make you the best candidate to:
Email HR@InHISNameHR.com
Bertolet Construction Corporation is an Equal Opportunity Employer.
Want to get future vacancies and blog updates?  Subscribe here: Click