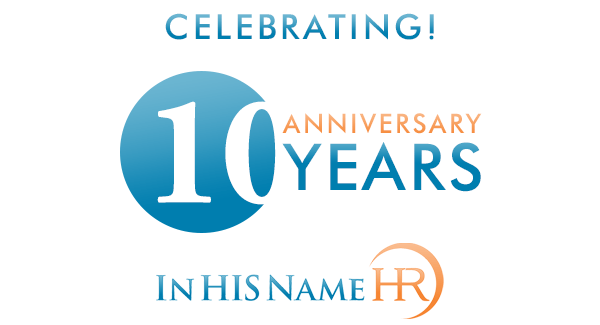 ---
"Words can't express the depth of our gratitude to all of our amazing clients. Thank you for your continued support and for trusting us to support your HR efforts." Mark Griffin, founder, IHN-HR
In HIS Name HR LLC (IHN-HR) celebrates 10 years of dedicated HR service today. IHN-HR began with the mission to provide world-class human resources support to both profit and nonprofit organizations. IHN-HR's goal is to provide straightforward HR solutions to complex organizational issues. The team at IHN-HR prides itself on always being compassionate with people while assuring accountability in achieving organizational results.
Launched initially to support for-profit businesses that promote Christian values, IHN-HR broadened its scope to serve clients in a variety of sectors, including Christian higher education, churches, ministries, and camps. Headquartered in Lancaster County, Pennsylvania, they are dedicated to supporting organizations in rural areas that do not have access to the resources that large metro areas enjoy. And, since launching in 2011, they have become the firm of choice within their market niche, due to their commitment to operating with integrity and a high moral code.
We have a clear responsibility to our clients, their employees, and their families," president and founder Mark Griffin says, "in bringing purpose to lives. That responsibility extends to all the communities in which we have been called upon to serve. Building great organizations creates security, dignity and compassion for all who are fortunate to be part of the process.
"To our business partners, we especially want to thank you for your referrals throughout the past 10 years. You have been critical to IIHN-HR's growth and success in our first decade, and we look forward to our partnership with you in the coming years."
In His Name HR helps organizations build high-performance human resource programs. E-mail us here.
Mark A. Griffin is President and Founder of In His Name HR LLC. Connect with him on LinkedIn and Twitter.