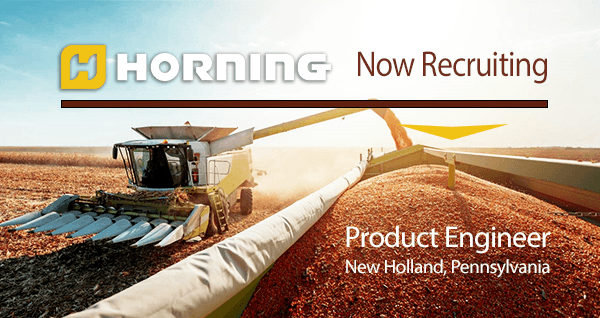 ---
(Position Closed) 
Located in Lancaster County, Horning manufactures high quality kernel processors and silage processing equipment.
After three generations of dairy farming, the Horning family knows cows. But as much as the Hornings are dairy farmers at
heart, they are innovators in mind. Relentless innovators in fact. And it is this family passion that has become the driving force and company culture of Horning Manufacturing.
Because of the incredible growth of Horning, we are now in search of a Product Engineer that will help take the organization to the next level of engineering and product excellence.
Make Horning part of your story.
The Product Engineer specializes in designing new products and their corresponding manufacturing processes. They improve upon current products and the manufacturing processes required to produce the products. They are also responsible for research, development product testing and transitioning the product from the design phase to manufacturing the product in scalable fashion.
Some Essential Responsibilities:
Utilize computer-aided engineering tools such as CAE, CAD, FEA, etc., to increase productivity, quality and efficiency of product design and analysis.
Provide information such as material and process specifications that are required in the manufacture or purchase of parts.
Working knowledge of the work of Designers and Drafters to efficiently complete development of projects.
Responsible for assisting and/or completing all field testing, as required.
Complete work in the design and fabrication of prototypes to prove out new products or satisfy customer demands.
Document design requirements on production drawings and incorporate all pertinent information necessary to ensure accuracy and precision in the production of the product.
Performs other duties as assigned.
Some Position Requirements:
Bachelor's degree or technical degree in Engineering or equivalent experience.
3+ years of Agricultural/Equipment Engineering experience.
Possess solid engineering knowledge in mechanical and electrical systems.
Possess computer proficiency in MS Office and AutoCAD, Solidworks or equivalent.
Ability to interpret a variety of instructions furnished in written, oral, diagram, blueprint, and/or sketch form.
Ability and willingness to travel occasionally (short term).
Self-starter, capable of working very closely with multiple internal and external customers.
Complete support of and willing adherence to Horning's Standard of Conduct, and Mission, Vision, and Values; applicant must hold these standards as their own.
Some Required Personal Attributes
Must exercise good judgment and integrity.
Possess excellent organizational skills.
Possess excellent communication and collaboration skills.
Possess the ability to take the product from beginning to the finished product.
Location Will Be:
301 Twin Springs Ct,
New Holland, PA 17557
Horning, LLC. is an equal opportunity employer
All qualified individuals may submit a resume and letter of interest to: