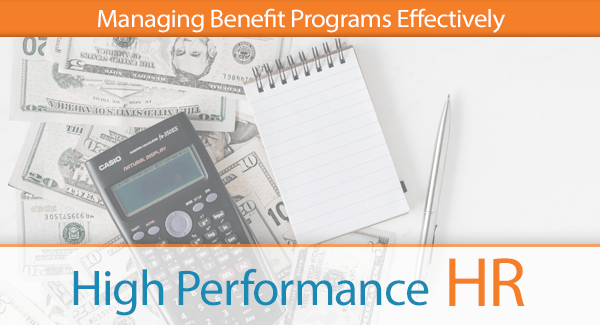 ---
Effectively Manage Benefit Programs
COVID-19 is surging, and more lockdowns are looming. It's all too easy for us to become overwhelmed with worries about friends and relatives—and when things might hopefully return to normal—in times of crisis. Even during trying times—or perhaps even more so—your HR department is still called upon to manage your employees' needs swiftly and accurately.
HR executives tend to juggle more than their fair share of business concerns. Payroll systems, in particular, can be complicated and time-consuming to manage, which is why executives look to outsource to more cost-efficient payroll services.
Employee Benefits: An HR Executive's Top Priority
Employee benefits, an indirect form of salary, are a vital consideration when it comes to how and why a company attracts and retains the best employees. No wonder HR executives focus on the benefits that their companies offer, compared to others in the same or similar businesses. For instance, there is little in the way of public medical and dental benefits in the United States. Consequently, these two factors are among the most significant considerations when a prospective employee is looking at a company. The importance of salary negotiation benefits is liable to be in front of the line, right after the salary itself.
While many candidates fresh out of college or rising from lower echelon positions tend to focus on salary, this is not so for candidates eligible for more senior positions. More than salary, the seasoned professional is focused on the indirect pay, the benefits. And benefits mean more than health and dental. Senior employees typically look for vacation/personal time, stock options, pensions and 401(k) matching, family leave, and the like, which means the HR department must find a way to keep track of their benefits package in a manner both efficient and scalable.
Reasonable HR Benefits
Two categories of employee benefits exist in the United States: benefits required by law, and optional benefits offered by an employer. Legally required benefits include company-sponsored savings programs, such as employee contributions to a 401(k) with a percentage of funds contributed by the company; medical and dental insurance; unemployment insurance; Social Security contributions, and more, while company-specific benefits may include such perks as tuition assistance, profit sharing, paid sick leave, and stock option plans, just to name a few.
Depending on the organization's size and the benefits portfolio, keeping up with such a wide range of concerns can be daunting for larger corporations, but equally challenging for small companies.
HR Management Best Practices
Best practices should not be confused with HR activities, such as payroll, attendance, training, and so on.  No, best practices involve the overall strategy of the HR department. It should also be noted that there tend to be two schools of thought on best practices. The first, the "best fit" approach, seeks to align human resource policies with the larger overall strategy of the business being supported. The second, the "best practices" approach, posits a universal set of HR practices that any company can use to achieve business excellence.
Leaving aside the best fit school of thought, the current line of thinking on best practices is that it should be employee intensive. This thinking means an organization can excel if: a) it works to ensure job security, b) it offers fair compensation, c) it offers continuing education and training, and d) it ensures that anyone in the organization easily obtains pertinent company information.  (This list is by no means definitive.)
Executives Who Manage Benefits Effectively
Effectively managing HR benefits involves effectively managing such HR activities as these, and more:
Payroll
Yearly employee surveys
Planning, design, and implementing benefit changes
Maintaining benefit information
Staying abreast of state, federal, and international laws
Monitoring compliance with government regulations
HR Management Systems
There are many HR management services available to businesses today, but not all are equal. Some are simply specialists in one field, like payroll services, while others may offer comprehensive services yet ultimately lack the depth and expertise that the client requires. An effective HR management service will have a specific target for their expertise. Instead of a one-size-fits-all approach, effective service will specialize in small or medium-sized business support. A reputation for integrity and service is a hallmark of the best HR management services.
Effective Benefits Management Systems
Effective benefit management systems simplify complex processes and procedures, are easy to use, and are cost-effective. There is no sense in outsourcing if the service cost is greater than the current organizational overhead. Moreover, they offer an efficient method for managing mission-critical factors such as:
State, federal, and international law compliance
Monitoring employee turnover
Locating the appropriate talent for your needs
Leadership training
Employee training
Benefit management
Payroll services
An Expert to Help You Through the Labyrinth
In HIS Name HR is an innovative, reliable HR management service designed for small and medium-sized companies. Comprehensive in our approach and focused on our customers' needs, In HIS Name HR offers full-spectrum support for your small or medium-sized concern.
We can help you navigate health and benefits brokers' intricacies, current regulations, and increase workplace productivity. Among our other areas of expertise are recruitment, how to find and retain the best people, and compliance with employee benefits law to ensure that state and federal requirements for employee protection are in place. We also specialize in employee-benefits design, the best benefits packages available for the money, and organizational development to keep your business on the right course.
Regardless of whether you are a small or medium-sized firm, HR management in the modern business environment is a challenge. Even the largest companies find adequate HR solutions time consuming and, frequently, not aligned with the organization's objective. In HIS Name HR helps our customers to assist in their HR processes and encourage an agile and productive business. We offer leadership training, business coaching, and organizational coaching, all at an incredibly affordable price.
With In HIS Name HR, you no longer have to negotiate the labyrinth alone.